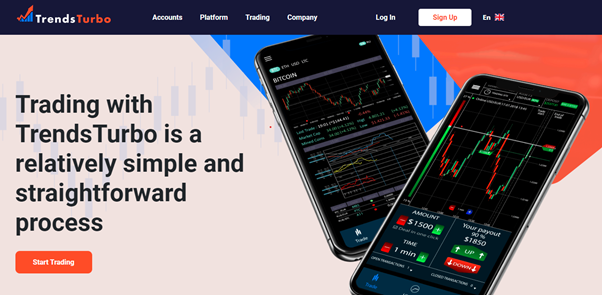 TrendsTurbo has made a name for itself in the online trading industry thanks to its wide range of tradeable assets and its Personal Success Managers and Expert Advisors that are available to traders. The company is nearly a decade old, and in that time, it has developed a platform that puts traders first through an innovative support programme, minimal fees, and a range of flexible account and trading options.
Headquartered in Kingstown, TrendsTurbo is licensed and regulated by the Financial Services Authority of Saint Vincent and the Grenadines. The platform takes trader safety and security seriously and has a number of anti-money laundering procedures and processes for every trader to undergo.
However, the focus is on the efficiency of the platform itself. Novice and veteran traders alike will find something to like on the platform, whether it is the range of currency options, the additional guidance, or the lack of additional fees.
 Features
TrendsTurbo has a number of notable features. The lack of withdrawal and deposit fees, assistance of Personal Success Managers, and wide range of assets really set TrendsTurbo apart from its competitors. The platform uses the industry powerhouse platform MetaTrader 4 (MT4) and has a number of helpful tools available for traders looking to strategize. TrendsTurbo also has four different account types available, which gives traders a great degree of flexibility when choosing which account to opt for.
However, there are a number of aspects that are holding TrendsTurbo back from being a titan of the industry. TrendsTurbo has a customer support team, but the times that they are available and the languages that are available to assist traders are not listed. Aside from customer support, TrendsTurbo has fairly limited options for making deposits and withdrawals, and it is not licensed in many jurisdictions.
Ultimately, every trader will weigh their own considerations and the pros and cons of the platform in order to decide whether or not the platform fits with their specific trading needs.
 Account types
TrendsTurbo offers four different account types: Bronze, Silver, Gold and Platinum. The minimum deposit for Bronze is $250; for Silver it is $2,000; for Gold it is $10,000; and for Platinum it is $50,000. The major differences between the accounts are that Bronze Account holders do not have access to Expert Advisors on the platform, and the leverages for each account progress from 1:100 to 1:200 to 1:300 and finally to 1:400 for Platinum.
Aside from the leverages, the spreads also change as the Bronze Account has spreads from 2.8 pips, Silver has spreads from 2.5 pips, Gold has access to spreads from 1.5 pips, and, finally, Platinum has spreads from 0.1 pips. All account holders have access to the same symbols and to personal account managers, and all traders on the platform can engage in news trading, scalping, stop out levels of 5%, and unlimited numbers of open positions.
Offering four different tiers of membership sets TrendsTurbo apart from its competition, as most other trading platforms do not offer as many membership levels. This is great for traders who are looking for more flexibility and for a VIP-type trading experience. However, the Bronze and Silver accounts are definitely going to get the most attention from prospective traders because the minimum deposits for both Gold and Platinum levels is quite high and arguably even restrictive. It would be interesting to see the statistics for the numbers of different membership categories, but TrendsTurbo has been in business for nearly a decade, so there must be a sizeable market for the upper tiers of membership.
As mentioned above, all traders on the platforms have access to a Personal Success Manager to help you navigate the platform, understand the trades you are making, and ensure that you are making the most of the resources available to you on the platform. This level of guided assistance does set TrendsTurbo apart from its competition as support from Personal Success Managers and, for the Silver, Gold and Platinum members, Expert Advisors, can be extremely beneficial for novice traders or for traders who are using a digital platform for the first time.
TrendsTurbo has a number of other resources available for members, including step-by-step market guidance and tools and trading strategies. These are beneficial for traders, especially if you are starting to trade in a new asset for the first time. However, other platforms have specific sections of the platform that are just for learning about trading, such as trading libraries, videos and webinars. Novice traders who are really looking to learn about trading and gain knowledge, skills and strategies may want to find a platform that has more resources dedicated specifically to trading education.
TrendsTurbo takes security and safety seriously and, as a result, you will need to verify your account before you start trading. Although an administrative process can be frustrating when you want to get straight to trading, it should be reassuring that your trading platform is dedicated to taking steps to limit fraud and money laundering. The good news is that the process is fairly painless and quick. You will just need to submit a piece of government-issued ID such as a driver's licence or passport, along with a proof of address such as a utility bill or financial statement.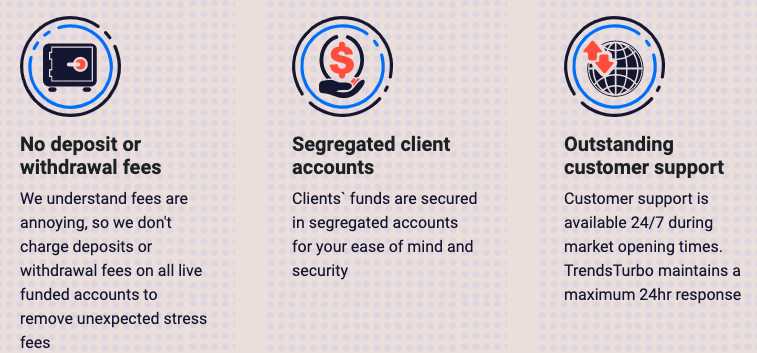 Platforms
TrendsTurbo uses the industry favourite and all-round powerhouse MetaTrader 4 (MT4) platform for trading. The MT4 platform at TrendsTurbo has won a number of awards and the company invests heavily in increasing functionality, products and trading tools in order to improve the MT4 trading experience.
The MT4 platform allows for a wide range of different market categories and traders can access trades in all asset classes from the platform. For clarity, the trades are separated according to currency pairs, metals, commodities, indices and global shares. The MT4 platform is also a favourite of the industry because of the variety of technical indicators, such as indicators, graphical objects and time-frames. These indicators give traders enhanced insight into trading activity and help them to implement trading strategies and make smarter, better-informed trades.
Busy traders will also appreciate the versatility of the platform as MT4 can be downloaded and there is a mobile version of the platform. This means that you can make trades while on the go, during your commute, or in the middle of the night when inspiration just happens to strike.
 Support
TrendsTurbo has a customer help team that is available 24/7 during market opening times, and it is committed to a 24-hour response time. Traders can contact TrendsTurbo via email, through the site's comment submission form, or through a UK phone number.
The information regarding TrendsTurbo's customer support is a little unclear and more clarity regarding the exact times that the support agents are available would make the platform more accessible. It would also be beneficial for traders to know the various languages in which customer support is offered, as the platform caters to a wide range of different clientele from around the world.
One other thing to note is that the only phone number listed for customer support is a UK +44 number. This means that anyone who calls from an EU country or from anywhere outside of the UK could be subject to potentially massive phone fees. Most of TrendsTurbo's competitors list the various languages in which support is offered and the exact hours of support, and they also have a number of different phone numbers that are either toll-free or can be called from different locations around the world. If you need help with your trades or are confused about something regarding the platform, you usually want help right away – this is why efficient and accessible customer support is so important in the online trading industry.
That being said, although TrendsTurbo falls short in its customer support offerings, it does offer traders other forms of assistance. Users of all four account categories receive help and guidance from a personal account manager. Those who have Silver, Gold or Platinum accounts also benefit from the assistance of Expert Advisors, who can assist with making trades, planning and navigating the platform.

Trading Instruments
TrendsTurbo offers a competitively wide range of hundreds of different assets for trading. There are 450+ trading instruments available with a leverage of 300:1 over five different trading platforms. You can trade currency pairs, energies, metals, indices, futures and shares on the platforms.
TrendsTurbo has a wide range of currency pairs, allowing traders a great degree of flexibility in their trading. You can make hundreds of different currency trades as all of the major currencies, many of the minor currencies, and a few of the exotic currencies are all available on the platform to be traded. Foreign exchange trading is extremely popular, partly because many traders love the excitement of its volatility and high liquidity. In trading terms, this means that someone is always looking to make a trade with you, and you can be as creative and flexible as you like with your trades.
Aside from the inherent flexibility that forex trading affords, it can also be profitable in both bearish and bullish markets. Forex trading allows you to buy or sell an exchange rate depending on the direction you predict. This gives you potential ways to be successful, but also increases the volatility of the trading, leading to exciting trading.
Although forex is one of the most popular assets to trade on the platform, TrendsTurbo also has indices, metals, energies, futures and shares to be traded. The metals available for trades are especially notable as traders can trade in copper along with gold and silver. Additionally, traders who want to make energies trades can do so with Brent and WTI crude oil, petroleum, natural gas and heating oil. In the future, TrendsTurbo could increase its energies offerings to also include green energy options.
 Deposits and Withdrawals
There are no deposit or withdrawal fees on TrendsTurbo for all live funded accounts. This is a great asset to the platform as it helps to reduce the annoyance, stress and extra cost burden that accompanies these fees. Also, client money is always kept in segregated accounts to increase security and give traders some peace of mind.
When making a deposit, there are a number of different funding methods that traders can use. Traders can make deposits using credit cards, debit cards and bank wire transfers. When using a credit card or debit card, TrendsTurbo may need you to first submit a colour copy of your card. Depending on your card type and location, TrendsTurbo may need to take additional measures to ensure the security of the platform, including additional verification processes. Although these may be burdensome in the moment, they are beneficial and it is a good sign that the company is invested in security and anti-money laundering processes.
Bank wire transfers are somewhat more straightforward and really depend on your bank's own processing times and procedures. However, all bank transfers will require that your name and information match that of the bank account exactly. You may also need a SWIFT confirmation or Transfer Confirmation that shows the fund's origin.
As for the withdrawal process, TrendsTurbo has implemented an automated procedure. When withdrawing funds, you will need to log into your account, click the 'Withdraw' button and start the process of withdrawing your funds. This request to make a withdrawal will be automatically processed as long as all of your account information has been verified and fits within the guidelines and requirements of the platform.
In order to ensure the security of the platform, there are a number of guidelines for making withdrawals on the platform. You need to use the same bank account or card number for your withdrawal that you used to make the deposit in the first place. Once the information has been verified, the funds should be processed and arrive in your account in three to seven working days, but this timeframe can vary depending on your own bank's specific processing times and requirements. The processing time can also vary depending on where you live, the currency you are withdrawing the funds in, and the national financial regulations. As a result of these various factors, the processing time can actually vary from two to 10 working days.
While it is a great benefit for traders to not have to deal with withdrawal and deposit fees, TrendsTurbo does not have as many deposit options as its competitors in the market. Many other trading platforms offer a range of innovative payment methods, including options such as PayPal and cryptocurrency. It is actually safer and more secure for traders to use payment providers such as PayPal and crypto to make deposits or withdraw cash because they provide a distance between your financial information and the platform. If the platform is ever hacked, the personal and financial information of traders could be put at risk. Crypto ensures the privacy of the traders, and PayPal provides a secondary shield of sensitive user information.
Along with additional security, alternate payment provider methods are also just more convenient for many users. Traders like having a number of options available to them, including some of the more innovative options. Payments processing is becoming increasingly innovative and 'future focused'. As a result, the companies that do not adapt to these changing methods and trends might be left behind and struggle to catch up as consumers opt for newer payment options that they prefer because they are more convenient, easy to use, or secure.
 Conclusion
It is not difficult to see why TrendsTurbo has lasted for as long as it has in the market as it has a client-focused platform. Traders can enjoy support from multiple advisors, rest assured that the company uses separate accounts, and avoid annoying fees attached to withdrawals and deposits. The company also uses the reliable MT4 platform, has an impressive range of assets to be traded, and offers a tiered membership system so that traders who are looking for a VIP experience can be accommodated.
However, TrendsTurbo has lost a star because it essentially needs to update and modernise its offerings. The site's customer support needs additional information in order to actually support a global clientele. The platform could also start offering newer and more innovative payment methods that are more secure. Finally, the company would also benefit from providing additional information on the website concerning the licensing and registration of the company. This would provide additional clarity and give concerned traders, or cautious potential traders, some peace of mind.