Expert's Viewpoint
Our experts agree that Global TradeATF is a reputable broker and it is generally considered safe to trade with the company. The broker is regulated and licensed by the relevant authority for that jurisdiction, namely the Belize International Financial Services Commission (IFSC). There are currently no outstanding complaints against Global TradeATF, according to the Broker Complaint Registry and ForexFraud.com. It should be noted that ForexFraud.com does not yet list them as a trusted broker, but that is likely to be because they are such a new company and there is not enough data to make a full assessment yet. Our experts found no negative reports about the broker, and no blacklists that include the company. In fact, on the few websites that have already posted a rating or review, Global TradeATF are generally viewed favourably. We noted that this broker includes all legal documentation, important policies, and disclosures on their website. Documents that can be found there include a privacy policy, refund and withdrawal policy, and risk disclosure.
Having published information on legal policies is usually a sign that a broker is following all best practices, and can be trusted. Global TradeATF publishes a comprehensive safety of funds document which clearly states that all clients' funds are kept in segregated accounts, separate from Global TradeATF operating funds, which is a practice all good brokers should follow to fully protect client funds in the event of insolvency. This brokerage also uses appropriate technology to minimise the risk of security breaches. They employ strong firewalls and SSL encryption across the site, and also monitor all transactions using Level 1 PCI compliance services. Global TradeATF also publishes evidence that the brokerage is a member of the ICF (Investor Compensation Fund) for clients of Cyprus Investment Firms. This is a fund specifically to protect retail clients, as it allows them to seek a certain amount of compensation from the ICF if the broker gets into financial difficulties and is unable to compensate their customers directly.
All in all, our experts are happy with how this brokerage is conducting itself, and are satisfied that all best practices that you would expect from such a company are being followed, but does that mean you should trade with them? Is GlobalTradeATF a good broker, and most importantly, is Global TradeATF the best broker for you, at this time? Read through our comprehensive GlobalTradeATF review to find out.
Global TradeATF summary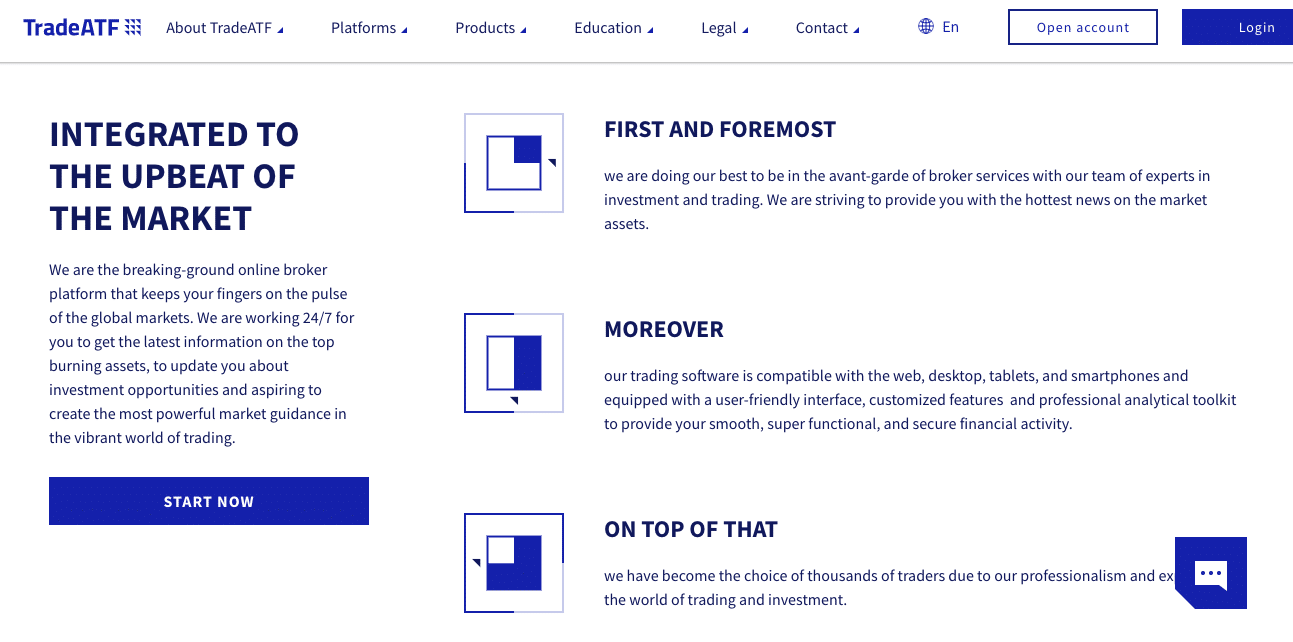 Global TradeATF certainly have a range of desirable features that will interest traders at all levels. They offer three different account types at three different levels, for beginner, intermediate and advanced traders. These are all retail accounts, but they have also recently launched a new professional account, which offers a variety of advanced features for the full-time professional trader. Global TradeATF also offers an Islamic account, available at all three levels, which shows they are going for a comprehensive appeal. You can register for an account online, and it is fairly quick and easy although you will of course have to go through a simple verification process, and will probably be asked to upload some documents, depending on where you live. Once your account is set up, depositing funds is straightforward, making it easier for you to get started with trading whatever instruments you choose, like CFDs. The broker has a wide range of educational resources available, which we'll discuss in detail below.
About Global TradeATF
Global TradeATF are a relatively new online broker. The broker was founded in 2019, under Bayline Trading Ltd. Global TradeATF has already made its mark in a crowded marketplace, attracting customers from across the world, due to an impressive selection of instruments, an award-winning platform and, quite possibly, the reputation of its parent company. The broker offers lots of tradeable assets, along with tight spreads, a zero-commission trading model.
Global TradeATF now caters to both retail and professional traders, offering a choice of accounts with a number of interesting features, so it truly has something to suit almost anyone. Professional traders enjoy tight spreads, impressive leverage, and the services of a dedicated account manager. Retail traders will appreciate the flexibility offered, with a choice of three different account types, according to experience. New and less experienced traders will be best suited to the Silver account, which provides flexible spreads, decent leverage, and instant access to more than 700 assets. Intermediate traders will most likely want to open a Gold account, aimed at those with a little more experience. This option offers tighter spreads, as well as a swap discount of 25%. More experienced traders have the option of a more advanced account, the Platinum account, which comes with tighter spreads, higher leverage, and a 50% swap discount, which, as more advanced traders will recognise, are some attractive trading conditions.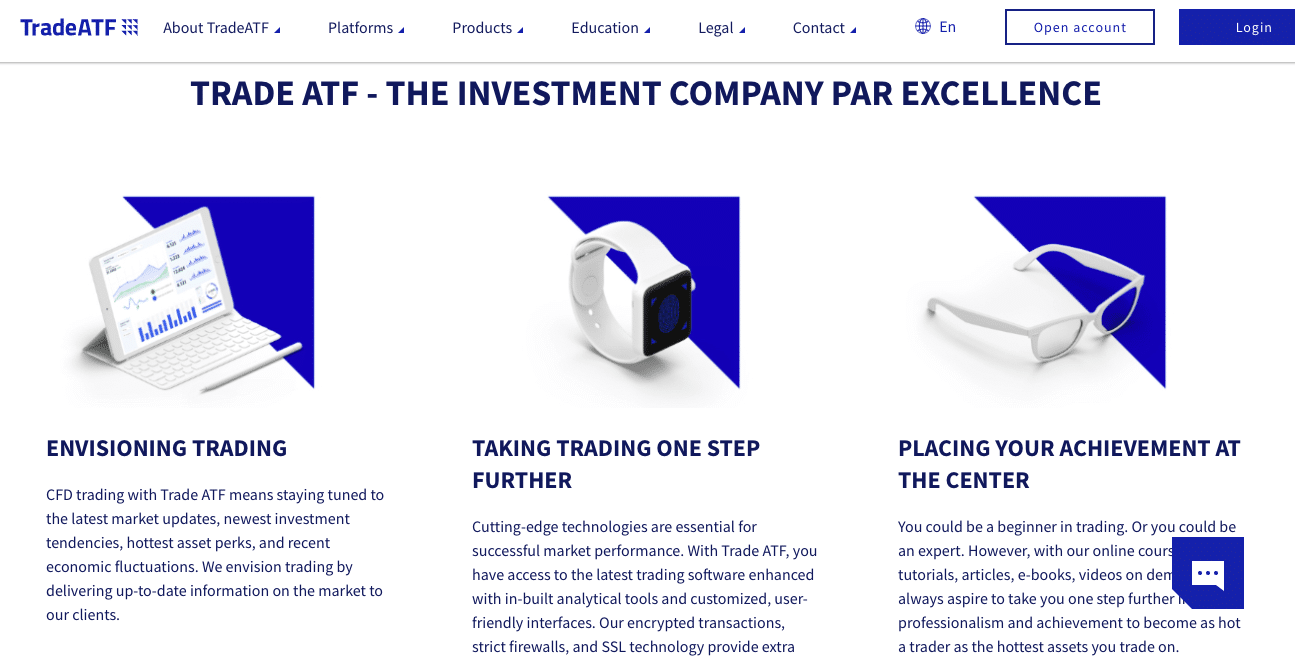 Global TradeATF offers a range of instruments as CFDs (contracts for difference). If you are new to CFD trading, it is important to know that it is a popular but risky form of trading, which allows you to make profits by speculating on the price movements of an asset without ever actually owning the asset. CFD trading allows you to use leverage to trade with much higher levels of capital than you actually have. This makes it a very exciting, potentially profitable, but also risky form of trading. It's important to educate yourself well before turning your hand to CFD trading. Luckily Global TradeATF offers a quite extensive education section, which is a feature many traders will appreciate. We'll cover how to get the most out of that education section later on in this TradeATF review.
Global TradeATF – Spreads & Leverage
At Global TradeATF, the spreads you get and the leverage you are offered will depend on the type of account you hold. Global TradeATF spreads start low, at just 0.03 pips, but are dynamic, and vary between different account levels, and of course, according to the type of asset you are trading. When it comes to leverage, Silver account holders can access leverages of 1:30, which should be more than enough for newer and less experienced CFD traders. Minimum spreads offered with the Silver account are 0.07. The Gold account offers a good deal more in terms of leverage, somewhere between 1:400 and 1:500. Gold account holders will also see spreads starting as low as 0.05 pips. The top-level Platinum account also provides leverage of 1:400 to 1:500 and spreads starting as low as 0.03 pips. Platinum account holders get other perks too, such as a 50% swap discount, and instant execution of orders.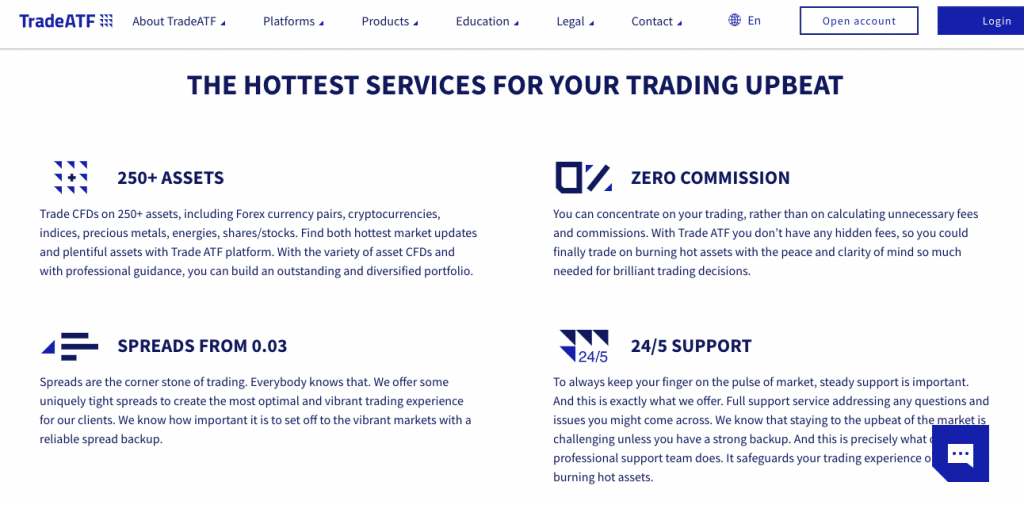 At Global TradeATF, floating spreads are the norm, and all spreads will of course depend on the instruments you are trading.  As always, with any kind of trading, you are advised to watch changing spreads and asset values closely and be aware of possible slippage when placing orders.
Platform & Tools
Global TradeATF offers the award-winning MetaTrader 4 trading platforms, in all its forms. As MetaTrader fans are already aware, the MT4 platform offers many desirable features and is well-loved by online traders across the globe. The MT4 platform provides many advanced trading tools, a range of fully integrated technical indicators, and advanced back testing facilities. It can be fully customised to suit your individual trading needs integrates well with all sorts of add-ons, making it extremely versatile and user-friendly.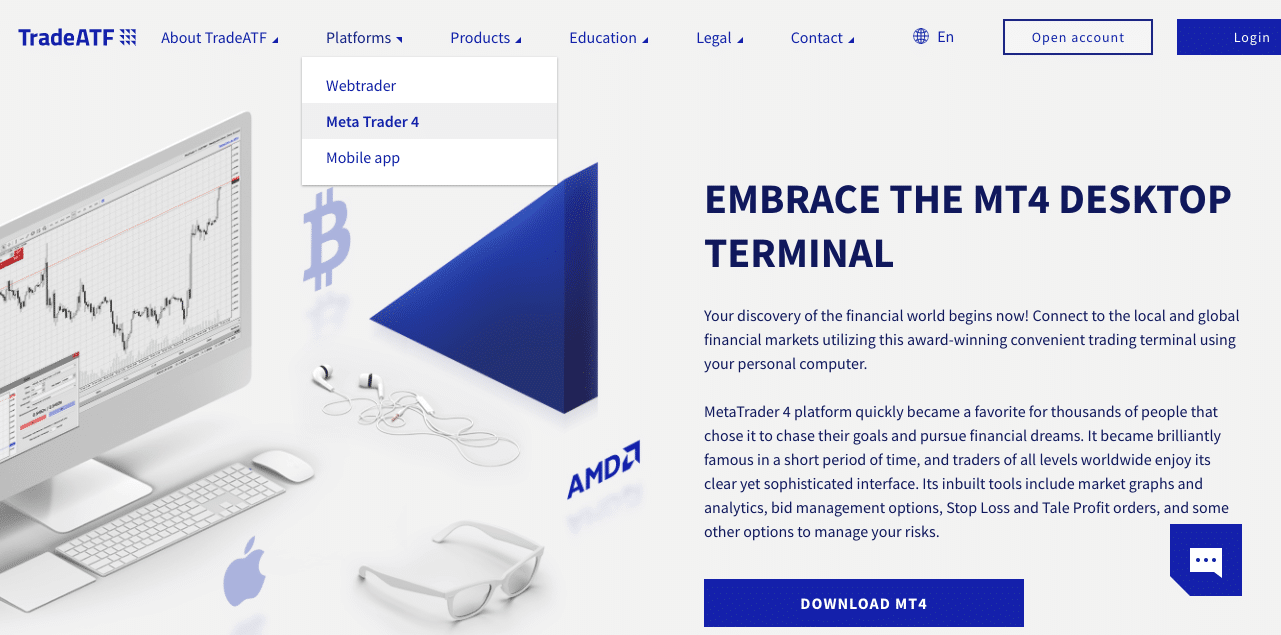 The MT4 platform is available in different forms, as a desktop download, the browser-based Web Trader platform, and as a mobile app. The Web Trader platform is designed to let you trade directly from any compatible browser, from any device, and incorporated all the usual MT4 features and functions. You may, of course, prefer the desktop platform, especially if flexibility and trading on-the-go are not a priority for you. If, however, trading while on the move is a top priority, you'll be very pleased to hear that TradeATF offer the mobile version of the trading platform in the form of the MT4 mobile trading app. This app is available for both Android and iOS devices and can be downloaded for free from the App Store or Google Play. It will give you full access to all trading tools and account features, wherever you are, from your phone or other mobile device.
Commissions & Fees
Global TradeATF operates on a very desirable, keep it simple, zero-commission model. As most traders know, when there are no commissions, the broker's profits have to come from somewhere else, namely the spreads. This means that spreads can be a little higher at no-commission brokers, but as we have already covered, at Global TradeATF the spreads start at a very reasonable level (just 0.03 pips on some instruments). However, spreads do vary across different assets, instruments and currency pairs, and will also depend on the type of account you open. It is your responsibility as a trader to always be aware of the spreads you are working with and to ensure they suit your aims and trading strategies before executing trades. Monitoring spreads on your chosen instruments can be easily done from any of the available platform versions you may be using.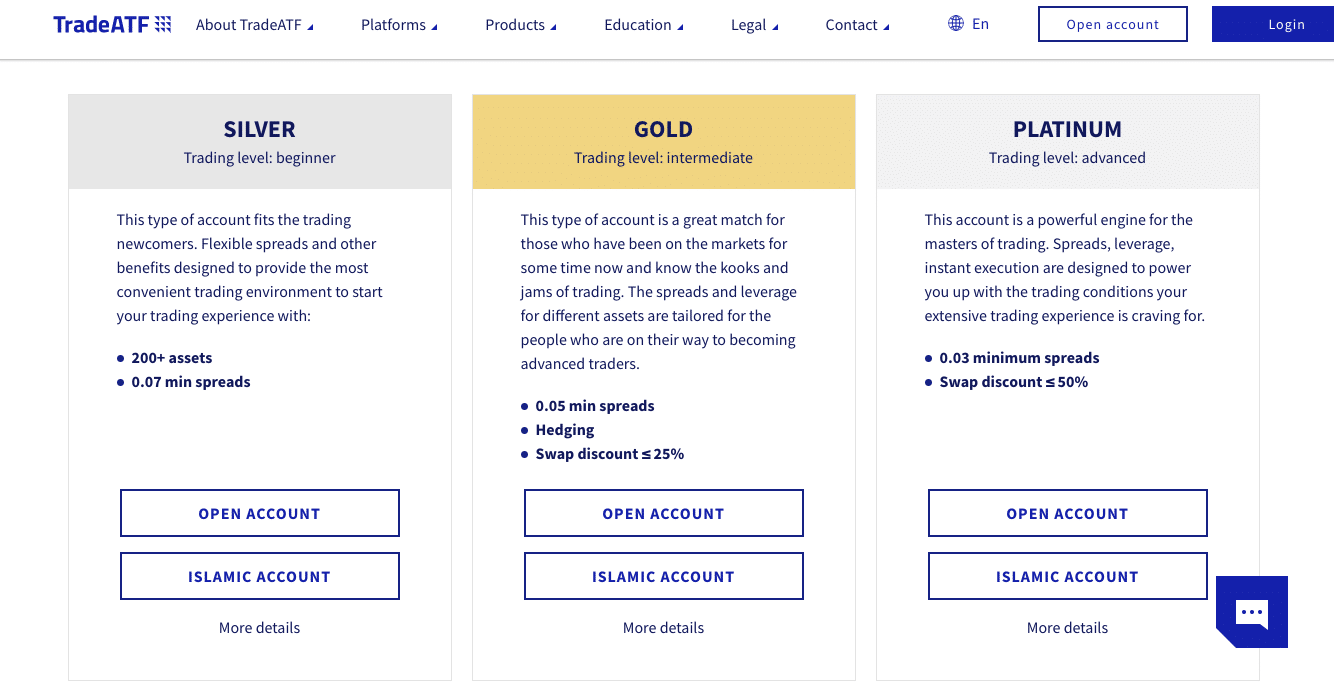 Global TradeATF seems to be keeping extra fees and charges to a minimum. Deposits and withdrawals are usually free, or at least they do not incur a fee from the broker, although as you are probably aware, some banks, credit cards and third-party payment providers may charge their own fees on these types of transfers. It is important to note that Global TradeATF clearly states that: "Additional fees may apply which will be communicated to you via the Company's contract". It is your responsibility to read all terms and conditions carefully, to ensure there are no hidden fees that may apply to your specific situation or account. Fees and charges are subject to change, sometimes without notice, so that is certainly something all brokers need to monitor carefully.
Education
Many online brokers offer their clients an online education portal. Global TradeATF does very well in this respect, offering a variety of educational resources, aimed at traders with vastly different levels of experience. There is a well-stocked, online, an "On Demand" video library, with training on a wide range of topics. These are categorised to make browsing through the selection easier. There is a dedicated section for beginners and another for more advanced traders, and a section which focuses exclusively on learning about the tools and features of the MT4 platform. Some general topics covered include risk management strategies, trading discipline, market analysis, and how to calculate pips. There are also some fairly detailed online tutorials and e-courses. These also cover different niches and topics. There are some specific to trading CFDs, some that focus on general trading tools and strategies and some the cover specifics such as social trading or trading mindset.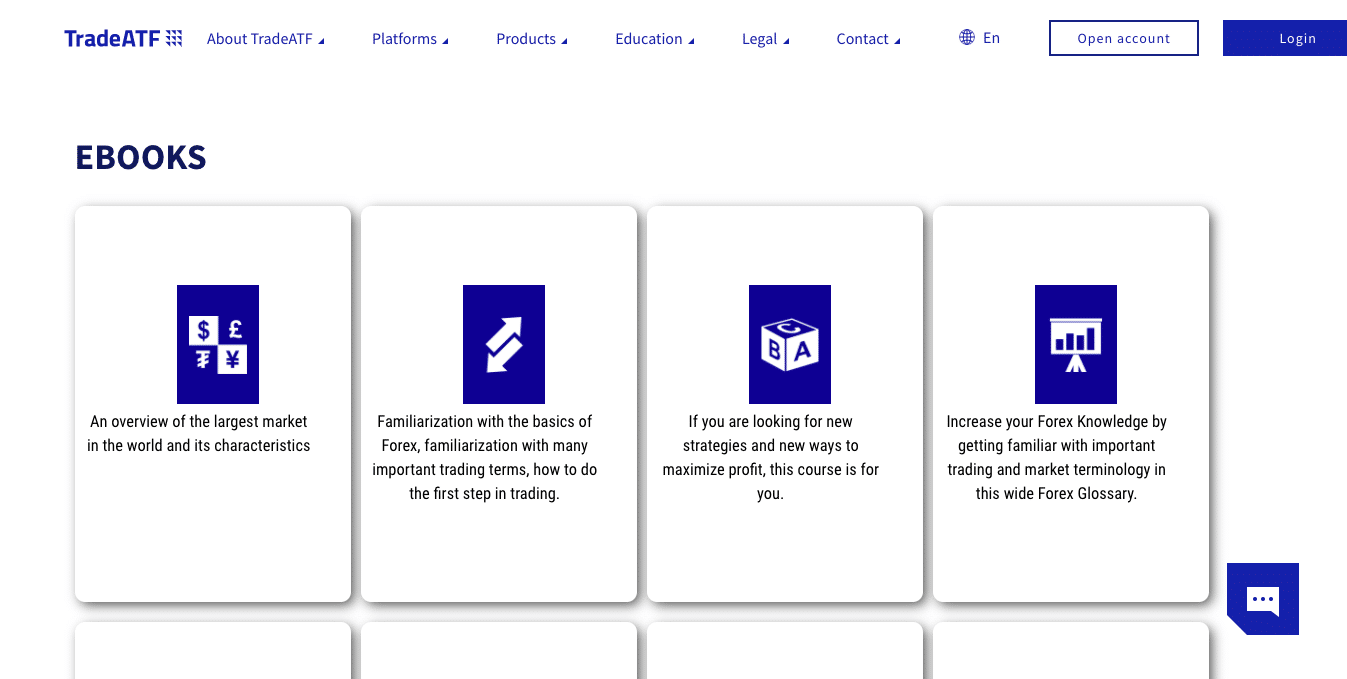 Global TradeATF also stocks their educational section with a number of downloadable eBooks on different topics of interest to CFD traders. These eBooks cover capital management, fundamental analysis, technical analysis, and different financial instruments. In this section, you'll also find a very useful forex glossary, and more information on important peripheral topics like your trading mindset. We were impressed with the Global TradeATF education section. It is always good to see a broker who is determined to provide customers with the tools they need to trade as successfully as possible. It is, of course, up to you as a trader, to decide whether (and how well) you will use these invaluable educational resources.
Customer Service
The level of customer support offered by online brokers is definitely something most traders want to take into account when choosing a brokerage. The number of channels available, and the speed of response, can make a real difference, especially given the fast-paced nature of the online trading world. At Global TradeATF customer support is available via a few different channels. The website offers both live chat and email, as well as a telephone helpline, which is open from 8:00am to 8:00pm, Monday to Friday. Support staff are friendly and knowledgeable, and the live chat function is particularly useful as it allows you to to have a quick, convenient two-way conversation and get your issue resolved or your questions answered. Live chat support staff are polite, professional and helpful. The broker also provides an easy contact form on the website, allowing you to quickly ask less urgent questions. You will receive a response from a customer service professional by email if you choose to use this option. Customer support is easy to access whether you already hold an account at TradeATF or want to clarify things before signing up.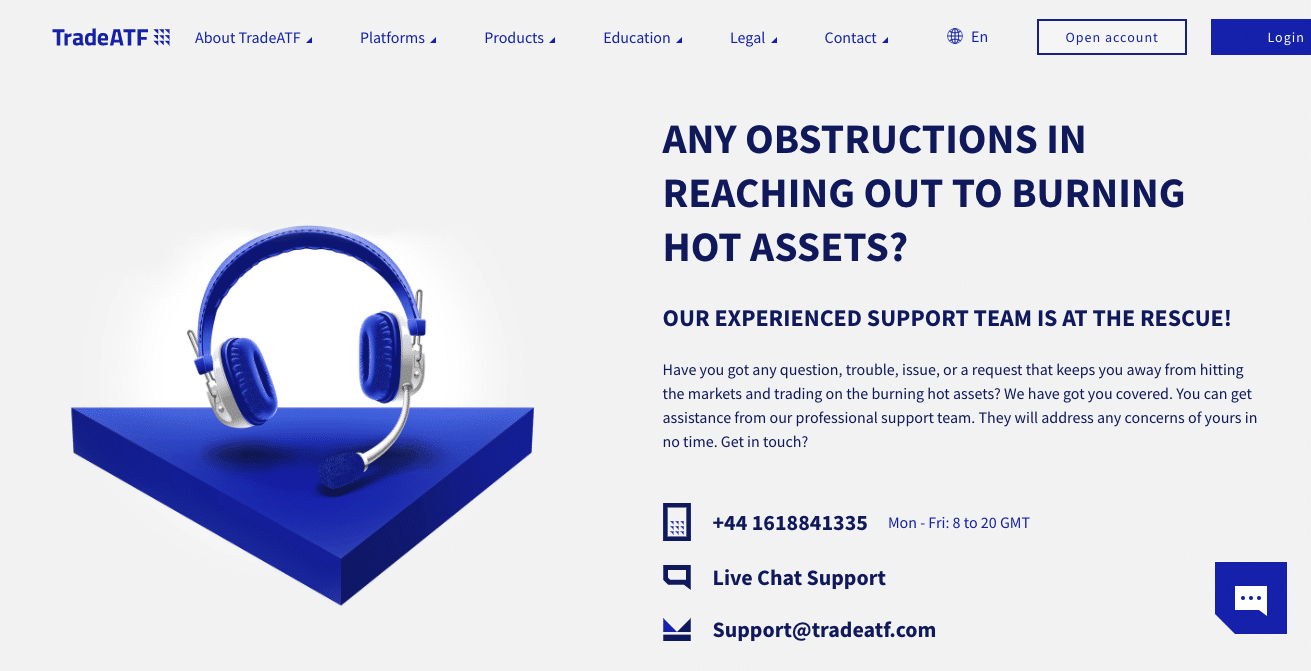 Global TradeATF also tries to accommodate customers' needs by providing plenty of information for their clients on the website. Their FAQ page covers a range of commonly asked questions with brief answers and occasional links to further information. There is also a lot of information on scattered around the site, and both the top bar menu and links in the footer of each page make it easy to navigate the site and find all the information you need. The comprehensive education and training section is also helpful for cutting down the amount of customer support that is actually needed, as customers can find tutorials and training on many aspects of trading that they may have questions about.
Final Thoughts
Global TradeATF is a fairly new brokerage, but as our extensiveGlobal TradeATF review has shown, early indications are that this is certainly a broker worth considering for online traders at all levels. This multi-asset brokerage offers an impressive number of tradeable instruments, compared to many of their competitors. You can trade forex, stocks, commodities, and cryptocurrencies, all under one roof. MT4 traders will be happy to see their preferred, award-winning trading platform available, for desktop, browser and mobile.  A choice of three different retail accounts means that this broker has wide appeal, and offers room to grow for less-experienced traders, while still presenting enough advanced features to attract more experienced traders. We like the fact that spreads are competitive, starting from just 0.03 pips, and the website is very clear, uncluttered, and easy to navigate.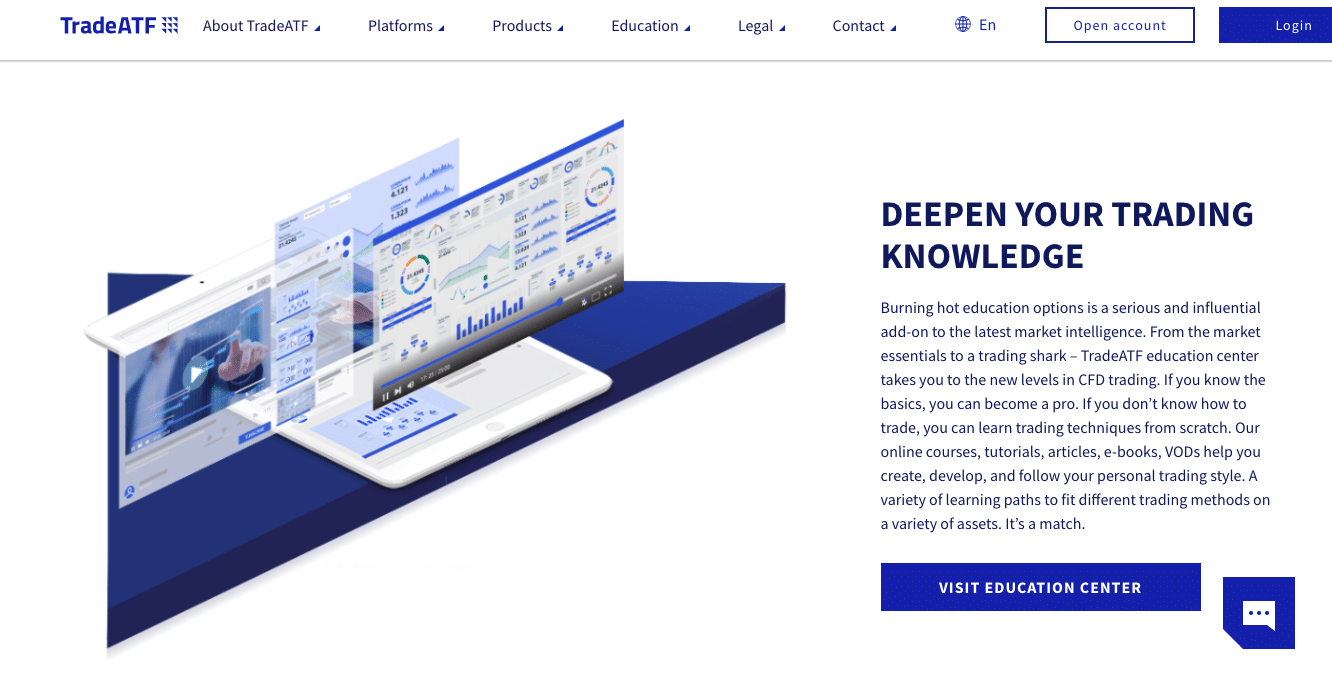 Most traders will find that the leverage offered more than adequate, and options such as swap discounts and hedging will be attractive to many intermediate and advanced traders. The zero-commission trading model, along with a very limited number of extra fees and charges will also make the platform very appealing to many online traders. The very extensive education and training section is a further pull for those wise traders who want to be constantly upgrading their skills and learning more about the exciting world of CFD trading.  Savvy traders will also appreciate the numerous security features and the peace of mind that comes from knowing that the broker is fully licenced and regulated by Belize IFSC, and is also a member of the Investor Compensation Fund. As Global TradeATF points out in its own risk policies and other documentation, there are always risks involved in CFD trading, and we urge all traders to make themselves aware of these. However, if you are a CFD trader looking for a reputable broker with solid trading conditions, then we urge you to consider TradeATF for your trading needs.
FAQ
How do I open an account with Global TradeATF?
Opening an account can be done entirely online, and is simple and quick. You just register on the site, deposit funds in your account, and start trading.
How do I deposit funds in my Global TradeATF account?
Global TradeATF offers a range of payment methods in order to deposit funds. Global TradeATF accepts payments via Visa, Mastercard, Maestro, Skrill, and Neteller. Sign in to your account and click on 'deposit funds' from your dashboard.
How do I manage my Global TradeATF account?
Global TradeATF accounts can be managed entirely online, via your dashboard which you can log in to from any device, using security procedures set up during registration. You can also set SMS and email notifications for your account.
Is trading with Global TradeATF risky?
Trading CFDs with any online broker is a potentially risky activity. Traders should educate themselves regarding the risks involved.Global TradeATF includes the following risk disclosure:
CFDs are complex instruments and come with a high risk of losing money rapidly due to leverage. 82.88% of retail investor accounts lose money when trading CFDs with this provider. You should consider if you understand how CFDs work and if you can afford the great risk of losing your money.