With roots stretching back to 1990, when the predecessor to the current business was first established, Swissquote is one of the most identifiable brands in the online trading and investment space. The Swissquote we know and love today became operational in 2000 when it became the first financial platform to offer free access to prices for all securities traded on the Swiss stock exchange. Since then, the brand has gone from strength to strength, and the Swissquote platform is now visited millions of times per month by users looking to access trading services for a range of financial instruments.
However, beyond this long history, which has seen some parts of Swissquote's business undergo various acquisitions and others floated on the SIX Swiss Exchange, what kind of service does Swissquote look to deliver to users of the platform?
Swissquote has two main parts of the business: trading stocks, funds, options, and futures, with another part established in the UK for CFD and forex trading.
In recent years, Swissquote has changed its product offerings somewhat in response to user demand. As a result, it now supports cryptocurrency trading and has also developed a robo advisory service that allows you to automate your investments. Combined with the reputation Swissquote has for customer trust and safety, these recent innovations have helped to keep the Swissquote brand in high regard within the industry.
With that said, let's take a close look at everything the Swissquote platform has to offer.
Features
 One of the most notable features of the Swissquote platform is the robo-advisory provided for users. First launched in 2010 it was the first Robo-Advisor in Switzerland. The robo-advisory service provides bespoke investment guidance to help you manage your portfolio. Essentially, it is an automated investment manager that creates an investment portfolio for you based on the information you provide, which will automatically monitor that portfolio's activity. Your portfolio's investment strategy and asset allocation will be determined by your risk profile and your general investment preferences.
This service's benefit is that it allows you to automate your investments without the need to either devise a new strategy from scratch or to monitor the account regularly. Additionally, the robo-advisory service also requires a smaller initial investment than you would typically need with a traditional investment manager. That means you get all the functionality of a fully managed portfolio without the same level of financial commitment.
Best of all, this robo-advisory service comes at a relatively low cost, particularly when compared to traditional investment management options. The annual fees you will have to pay for the service will depend on what level of investment you make. The fees range from 0.75% to 0.45%. Once you have a fully verified account, you can access your robo-advisory account through a dedicated robo-advisor mobile app. That allows you to keep track of your investment portfolio in real-time.
We were also really impressed by the educational resources Swissquote makes available to users of the platform. They include forex trading courses, webinars on a variety of trading topics, and an entire library of eBooks. Although not the most extensive selection we have seen, particularly compared to some of the other similarly sized brokers out there, all of the material was very high quality. And regardless of whether you are a beginner, novice, or advanced trader, Swissquote have something for you! It should also be noted that Swissquote holds in-person trading seminars from time to time, although they are suspended for the time being.
 Account Types
In terms of how the pricing is structured for users of the Swissquote platform, the pricing you can expect to pay will be determined by what type of account you have open. For forex trading, there are four levels of accounts: Standard, Premium, Prime, and Professional.
The Standard account provides spreads from 1.7 pips and will not charge you a commission on each trade. To open a standard account, you must make a minimum deposit of $1,000.
The Premium account is by far the most popular account type and provides trading from 1.4 pips on average. It is a zero commission account and requires a minimum deposit of $10,000.
The Prime account provides trading from 1.1 pips, is also zero commission, and has a minimum deposit amount of $50,000.
For professional traders, a bespoke pricing structure can be negotiated directly with Swissquote, which allows you to avail of custom spreads and a bespoke commission structure.
These are not necessarily the most competitive spreads you could get from an online trading platform, particularly compared to some of the budget trading platforms out there. However, the spreads on offer should be balanced against all the other features and benefits of the Swissquote platform.

Platforms
As the Swissquote platform has evolved and developed, tech has become central to how the trading services are delivered. As a result, Swissquote provides several different options for traders and investors looking to use the platform. Regardless of whether you are a beginner or experienced trader, Swissquote has just the right platform for you.
For most users, trading is delivered through the bespoke Swissquote eTrading platform. It is an incredibly intuitive, user-friendly platform that gives you a high-level overview of your investment portfolio while also providing you with the tools needed to make trades. It blends a mix of widgets to give you total control of your investment portfolio and makes trading incredibly easy. Additionally, it also provides an integrated watchlist, a trend radar, and a newsfeed, which allows you to keep on top of all the latest financial information. Other trading platforms available to Swissquote users include the Swiss DOTS platform, which will enable you to trade OTC leveraged products.
For forex traders, there are several options available. The most familiar are the MetaTrader 4 and MetaTrader 5 trading platforms, which are the leading trading platforms currently available to retail traders. As the most popular trading platforms by a wide margin, MetaTrader 4 and MetaTrader 5 are loved by traders and investors worldwide for their intuitive design and extensive support for plug-ins (such as AutoChartist) and APIs.
Forex trading can also be done using the Swissquote AdvancedTrader platform, their bespoke forex and CFD trading platform. The AdvancedTrader platform combines a simple and intuitive interface with advanced charting capabilities. The TradingView charting tool includes over 50 charting tools, more than 80 technical indicators, as well as synchronised layouts for multiples charts. It gives you one of the most technologically comprehensive packages around. Additionally, the Advanced Trader platform is fully customisable, which provides the ability to design a unique layout tailored to your own trading and investment needs.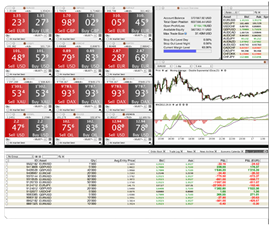 For those looking to conduct trading on the go, Swissquote has some different mobile options available. Both the MT4 and MT5 apps come in fully functional mobile versions supported on both iOS and Android platforms. The Swissquote advanced trader platform comes in a mobile version that provides you with full access to your account and the ability to execute trades on the go. Swissquote takes mobile functionality to a whole other level, with Swissquote apps available for Smart TVs and smartwatches. That is unique among brokers and is something we were greatly impressed by.
Support
If you need to get in contact with a member of the customer support team, Swissquote has a dedicated support hub that provides a centralised location where the various support options can be accessed. Customers can get in touch with a support team member using phone, fax, email, or by filling out a contact form. However, the best option for getting customer support is the live chat box embedded in the Swissquote website. That immediately connects you with a member of the customer support team and seems to have the best response time of all the various contact options. The customer support teams are staffed between 08:00 (CET) and 22:00 (CET) Monday through to Friday. Customer support is available in more than ten languages.
Additionally, we were impressed by the FAQ section of the support hub. It is clear that Swissquote has put a tremendous amount of effort into this section of the website, and the user guides and FAQs are generally of a very high standard. They include answers to the majority of the common issues you might meet. If something isn't covered, you can immediately connect with a customer support team member using the live chatbox.
In terms of customer trust and safety, Swissquote scores very highly compared to some of the other robo advisory platforms we have studied. Currently, they have regulatory approval in Switzerland by the Swiss Financial Market Supervisory Authority (FINMA) and the UK by the Financial Conduct Authority (FCA). That means users of the platform can rest assured that Swissquote abides by the highest possible financial conduct standards. Additionally, Swissquote is also regulated in Singapore by the MAS and in Hong Kong by the SFC.
Trading Instruments
Users of the Swissquote platform have a wide array of financial instruments ready to trade at market rates. They cover forex, CFDs, cryptocurrencies, and several other types of financial instruments.
The forex offering is quite strong at Swissquote and covers an extensive range of major, minor, and even emerging currency pairs. Additionally, they also provide access to forex and precious metals crosses, which are indeed a unique offering not often seen on retail investor trading platforms. Swissquote provides access to well over 80 crosses in total, which is one of the most extensive selections we have come across. And with access to a network of Tier 1 banks and regional non-bank liquidity providers, Swissquote can also guarantee deep liquidity.
In addition to forex pairs and forex options, Swissquote also provides trading on a wide range of CFDs. Users of the Swissquote platform can trade CFDs on stock indices, commodities, and bonds. These convenient and versatile instruments allow you to capitalise or hedge against the markets' movement, particularly in circumstances where you have limited access to capital. Some of the indices CFDs include the US500, DE30, and US100. Additionally, bond indices include USBDN, BUND, and LGILT. The commodities CFDs include over 20 popular commodities, such as USOIL, UKOIL, and NG.
Most recently, Swissquote has added support for cryptocurrency trading to the product offering. Currently, it offers support for 12 cryptocurrencies, which include: Bitcoin, Ethereum, Litecoin, Ripple, Bitcoin Cash, Chainlink, Ethereum Classic, EOS, Stellar, Tezos, Augur, and 0x. Although not necessarily the widest selection of crypto assets out there, Swissquote has nevertheless put together an interesting and diverse collection. Additionally, Swissquote allows you to hold and trade the actual crypto-asset itself, which can be held in your Swissquote wallet.
The platform pricing can be somewhat hit or miss in terms of how much it will cost you to trade these various instruments. It should first be noted that the commissions and spreads you are offered may depend on where you are located. There is a significant difference between the Swiss arm of Swissquote—Swissquote Bank Ltd—and the UK based arm. Generally, the UK based platform will provide lower costs and lower minimum deposit requirements, although this comes at the expense of having a much more limited product offering. Generally speaking, the trading costs are higher than other brokers, although this has to be balanced against the high level of service Swissquote provides overall. Additionally, Swissquote is very transparent regarding fee and commission calculation, so it is always clear what a particular trade will cost you.
Deposits/Withdrawals
When it is time to deposit funds into your newly opened Swissquote account, the process is relatively straightforward. Two options are provided to make deposits to your forex trading account. Deposits can be made using a credit card, with Mastercard and Visa currently accepted. However, it should be noted that Swissquote charges a 2.2% transaction fee for CHF, EUR, and GBP deposits made by card, with a 2.5% transaction fee for USD deposits. The second option available to users is eBanking. Swissquote has a unique eBanking system, which allows you to add or withdraw funds to and from your account in a convenient manner. eBanking must be activated; however, once it is set up, it is intuitive, and it is relatively simple to make transactions.
Withdrawals can only be made using the eBanking service, which is something to keep in mind. Additionally, fees will be charged on withdrawals, with the final charge depending on the amount you are looking to withdraw as well as the type of payment option you use. Although we would prefer not to see any transactions fees, it should be noted that Swissquote is incredibly transparent about what charges and fees you might have to pay.
Conclusion
As you can tell from the above, Swissquote focuses on delivering a premium trading and investment platform. For this reason, the costs of trading on Swissquote tend to be a little higher than with some of the other platforms we have reviewed. Additionally, Swissquote does not have the most extensive selection of financial instruments to trade, although we were really impressed by the forex trading options.
Despite the slightly higher costs associated with trades, Swissquote performs very strongly and more than keeps pace with the competition. Much of this is to do with the brand reputation of Swissquote itself. The brand is known for delivering a high level of customer support, as well as abiding by some of the most stringent standards in the industry in terms of customer safety and protection. For this reason, you pay a little bit of a premium when it comes to trading costs.
Additionally, we were also really impressed by some of the additional features Swissquote provides for its users. In particular, the robo advisory service is leagues ahead of even the closest competitor, which in itself is a good reason for opening an account with them.
In conclusion, Swissquote provides a well-rounded trading experience that has something to offer traders of all skill and experience levels.