IronFX is an online Forex broker launched in 2010, which racked up a bit of a reputation, culminating in 2015. Trader funds were mistreated and there were several instances of abuse. Eventually, CySEC, the regulator of the brokerage, had to step in, to sort out the problems. To make a long story short, a settlement was reached, as a result of which, the IronFX brand managed to walk away with a clean slate, and become the brokerage it had always aimed to become.
For many traders, the squandered trust will never be regained, that's just how these things work. Others though seem to not care much about the history of what is essentially a well-regulated Fx brokerage, with a very solid offer platform- and trading conditions-wise.
Here's a closer look at this "reformed" IronFX.
The regulatory agency which stepped up when the going got really murky for IronFX, was Cyprus' CySEC. The brokerage acquired its CySEC license (#125/10) upon its launch. This license brings IronFX under the regulatory umbrella of MiFID. What this also means is that IronFX is free to deliver the financial services covered by its license, to every EU country. In addition to this license though, the brokerage is registered with national financial authorities too, such as Italy's CONSOB and France's BaFIN.
Many reviewers point to the fact that IronFX is a UK- and Australia-focused operation. While the brokerage is indeed licensed in both of those countries, that statement is simply not true. IronFX serves clients in no fewer than 180 countries, covering the whole of Europe, the Middle East, Asia, Latin America and Africa.
As said above though, the brokerage is indeed licensed and regulated in Britain, where it is represented by 8Safe UK Ltd. Its FCA license number is 585561. In Australia, the local subsidiary of IronFX is GVS Pty Ltd. Its AFSL license number is 417482.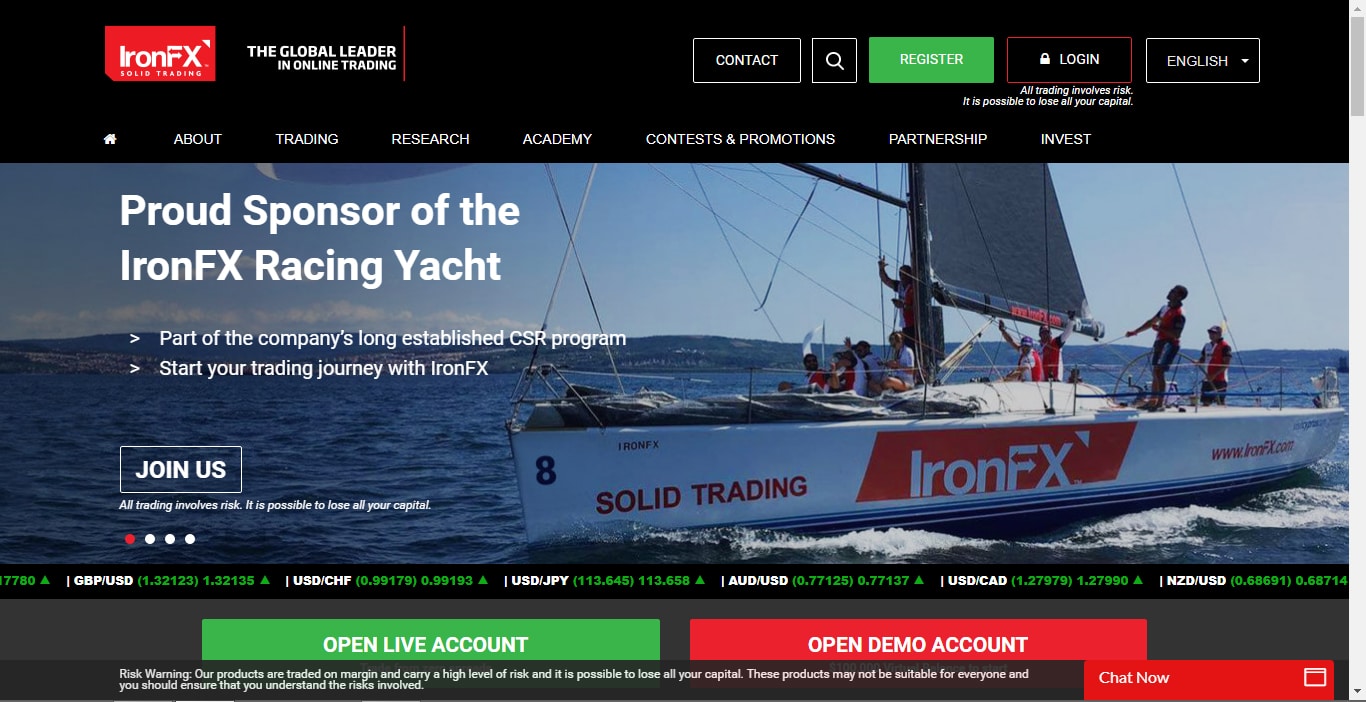 IronFX Perks and Promotions
While there are currently no trading competitions running at IronFX, it is indeed worth to take a look back at some of their past races. The most interesting thing is that such races are not limited to live accounts. Demo races were part of the mix in the past too.
The IronFX Demo account is the centerpiece of the site's trader education efforts. It is also a way to earn real money rewards for those who really do know their trading. Past Demo trading competitions have given away prizes of up to $30,000, including trips to Paris and $2,000 individual cash prizes.
The Live section of the trading platform was obviously more generous in this regard. Prizes handed out by this promotional branch in the past, include super cars, $100,000 cash prizes and $150,000 STP/ECN Accounts. Monaco Grand Prix tickets were also part of the mix.
IronFX have always been active on the promotional/sponsorship scene. They were recently involved with the ORC European Championship and with the ORC Worlds Trieste 2017. Their past sponsor-partnerships include FC Barcelona, one of the world's top football clubs.
Interestingly, for some reason, the VPS service offered by IronFX is also included in their promotions section. The VPS hosting is free, and it is quite necessary indeed for the proper harnessing of the power of the MT4 platform, more precisely of its EA component. Through the VPS service, traders are now able to install and the run their EAs 24/5, without the need to have their own personal computers turned on.
The VIP account option really does belong in the promotions section, given how it offers hands-down the best trading conditions for IronFX traders. Needless to say, these trading conditions translate to the lowest possible spreads, first and utmost. In addition to that, VIP Account users gain access to individualized 24/7 support, one-on-one coaching, flexible leverage and an exclusive hotline.
The IronFX card certainly belongs in the promotions category as well. It is essentially a prepaid MasterCard, which comes in EUR or USD. The top function of the card is to allow traders to withdraw money quickly and efficiently from their trading account with it, wherever in the world they may be. The IronFX site features a page dedicated to the card, where all the fees/commissions associated with its use are detailed.
Platforms
The backbone of the brokerage is the MT4 platform, which is indeed the best when it comes to EAs, technical analysis and advanced charting. At IronFX, MT4 has been made available in no fewer than 12 versions, covering PCs, Macs, various mobile platforms and tablets.
MT4 offers a great selection of time frames, customizable charts, templates which can be saved, and an impressive number of pre-installed technical indicators, to which traders can add more.
The most attractive feature of MT4 is the one linked to EAs though. Coupled with the above described VPS service, this feature is indeed a very powerful one.
MT4 can be downloaded from the IronFX site, in all of its above mentioned versions.
Unlike MT4, IronFX's proprietary Webtrader4 is an entirely web-based trading platform. Built on HTML5 technology, Webtrader 4 is compatible with all of the major browsers, and it acts as a sort of interface between the trader and his/her MT4 terminal. Through the Webtrader, IronFX clients can access their MT4 accounts from all over the world, without having to download anything.
IronFX's PMAM (Personal Multi Account Manager) platform allows retail users and money managers to trade through multiple MT4 accounts simultaneously. In fact, an unlimited number of such accounts can be used with PMAM. This platform-component can be downloaded from the site too, and there's a handy User Guide which comes with it.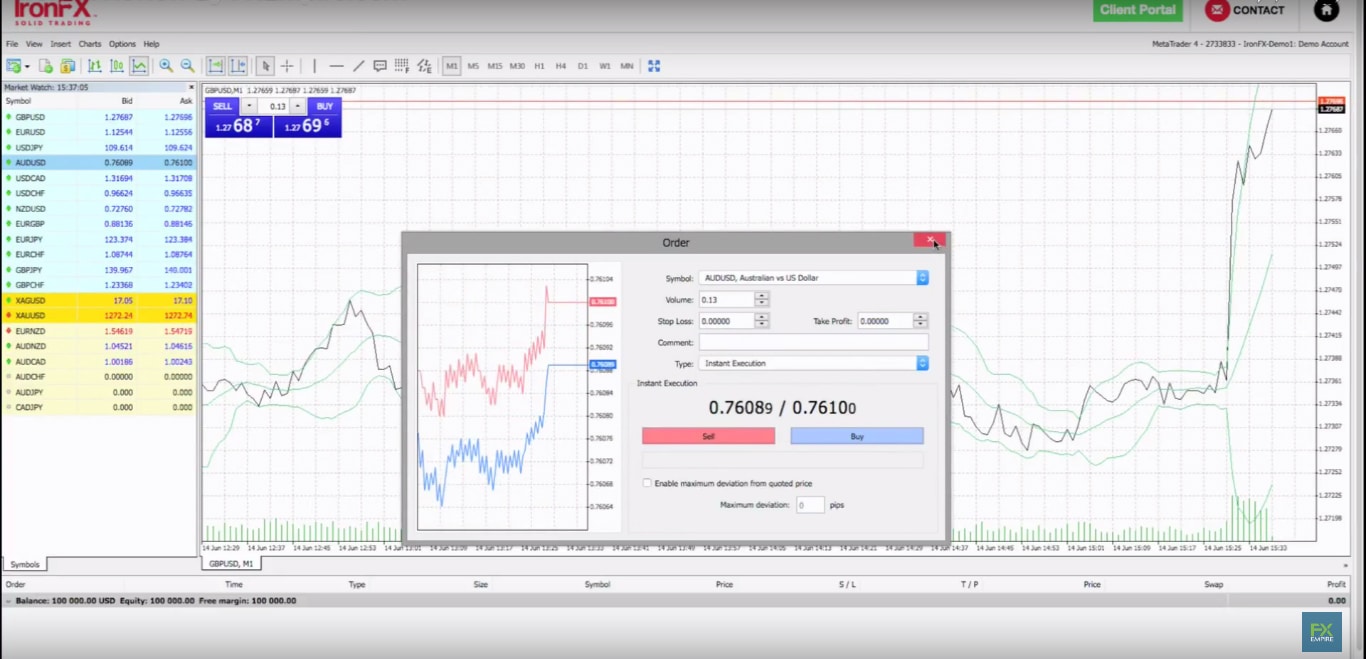 IronFX Products
IronFX obviously covers the Fx markets (to the tune of some 120 currency pairs), and it offers Spot Metals, Spot Indices and Spot Commodities too.
The most interesting bit of its Spot Commodity offer is bitcoin, which is treated as a commodity rather than a currency at the site. The trading conditions on bitcoin are rather dire though: the minimum spread is 1,000 pips and the minimum margin requirement is 20%.
Futures and Shares are also among the IronFX products.
Account Types
Account type-wise, IronFX have really gone overboard. Retail investors are offered no fewer than 8 account options, each of them featuring different spreads and margin levels. The Micro account is the cheapest. Its minimum deposit requirement is just $100. It is available in no fewer than 10 base currencies.
Institutional traders can choose from 4 different accounts, among them a Managed Account option.
Support
IronFX support can be contacted through a live chat feature, directly off the homepage of their site. Every one of their 4 global offices (located in London, Johannesburg, Sydney and Limassol) can be reached through their own phone numbers and email addresses.
The general support email address is [email protected], and the support phone number is +44(0) 203 282 7777.
Conclusion
IronFX may have a murky history to look back on, but it seems to have gotten its act together in every way these days. Its regulatory background is impeccable, it has high-profile sponsorships going, its trading platform selection is great and its trading conditions are quite attractive.