See the full review for HFTrading below but if you want to learn why our analysts rate FXTM the best broker right now, Click Here!
Expert's viewpoint
 HFTrading is a reliable and respected online broker. The broker operates in Australia and New Zealand and is fully licensed and regulated by the relevant authorities, namely the Australian Securities and Investments Commission (ASIC) and the New Zealand Financial Markets Authority (NZFMA). Our experts could find no outstanding complaints against HFTrading, and the broker is listed as a safe broker by ForexFraud.com, which means that the site has thoroughly assessed and reviewed this broker. Other sites and industry press that have chosen to review HFTrading have also found the broker to be safe and reliable.
The HFTrading website displays all required legal documentation, including a privacy policy, hedging policy and complaint handling policy. This information is easy to find by clicking on 'Legal' in the top bar menu of the website. Scrolling to the bottom of this page will bring you to the broker's risk warning, and links to its terms of use and product disclosure statement. Our experts could find no major problems or red flags with this brokerage, and they are satisfied that best practices are being followed, with the appropriate licensing, regulations and documentation in place. HFTrading could be the perfect broker for you, but take a close look at our detailed HFTrading CFD review before making a decision.
HFTrading is a relatively new brokerage but has already won various awards, including Best Forex Broker in Australia at the 2020 Forex Awards and Best Commodities Broker in Australia 2020 from the Global Banking & Finance Review. Opening an account is an easy three-step process that can be done online, and once you have opened your account and funded it, you can start trading straight away. HFTrading offers trading in forex, cryptocurrencies, commodities, single stocks and indices, all available to trade via CFDs.

Broker Summary
HFTrading was founded in 2019. It operates under CTRL Investments Limited and is based in New Zealand. The broker only caters to clients from Australia and New Zealand and cannot be accessed by customers outside of those jurisdictions. The website is only available in English. HFTrading offers over 350 trading instruments, along with very competitive spreads, and it does not charge any commissions.
Broker Intro
HFTrading offers a choice of three different retail accounts with a variety of benefits and features, so there is something for everyone, whether you are new to trading online or are more experienced. Silver accounts are aimed at novice traders, and offer a minimum spread of 1.8, with maximum leverage of 1:200. Spreads are similar for Gold and Platinum account holders. However, Gold accounts come with leverage of up to 1:400 and a swap discount of 25%, whereas with a Platinum account, the leverage rises to 1:500 with a swap discount of 50%. All accounts can be used to trade a variety of assets as CFDs, and all clients can access customer support, education and training. Gold and Platinum accounts also come with a dedicated account manager.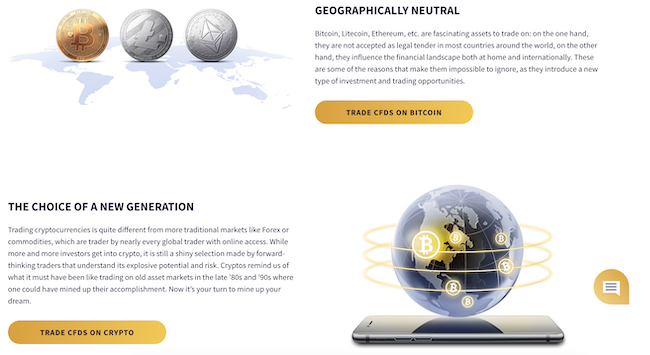 HFTrading offers all available instruments as contracts for difference (CFDs), which allow traders to speculate on the price movements of an underlying asset, and potentially profit from that price movement, without ever actually taking ownership of the asset. A big advantage of CFD trading is that traders can use leverage to access much higher levels of capital than they actually have available. CFD trading is an exciting but high-risk form of trading that requires some training and knowledge. Luckily, HFTrading has a comprehensive education section available to provide some of that training and knowledge.
Spreads & Leverage
At HFTrading, spreads and leverage depend on a number of factors. Spreads start low, from just 0.03 pips on some instruments, but there is a lot of variation in the spreads available, depending on the assets being traded and, of course, the market conditions. HFTrading offers an impressive number of assets and instruments, including forex, stocks, commodities, indices, metals and cryptocurrencies, with access to more than 350 assets in total. It also has an impressive number of forex pairs and crypto pairs available. Our HFTrading cryptocurrency review found that digital currencies on offer include bitcoin, Ethereum, Litecoin, Dashcoin and Ripple, along with a variety of lesser-known alt coins, making this broker an interesting choice for traders who want to dig deeper into cryptocurrency markets.
Another important aspect of any online broker is the amount of leverage offered. At HFTrading, Silver account holders can access leverage of up to 1:200 on most CFDs, which is more than enough for novice traders. The amount of leverage offered with the Gold account is up to 1:400, and Platinum account holders can access leverage of up to 1:500. Be aware that the leverage offered to you will depend not just on the type of account you have but also your available funds and the type of instrument you are trading. Leverage on cryptocurrencies, for example, is generally much lower.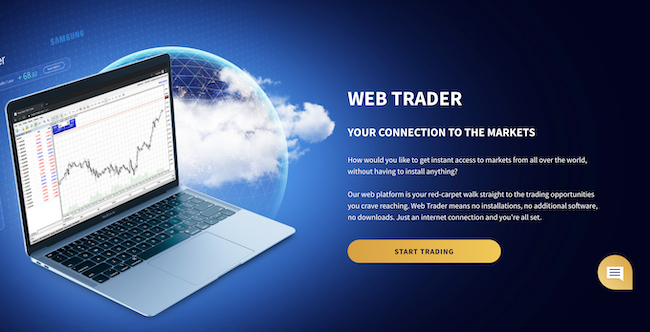 Platform & Tools
This broker provides the highly respected, award-winning MetaTrader 4 (MT4) trading platform, available for PC, Mac or mobile. The highly advanced and intuitive MT4 suite of software offers a variety of features, with built-in top-level security and an impressive range of analytics. The platform incorporates a range of customisable trading tools, various technical indicators, and an advanced back-testing function. This trading software really does make life easier for traders at any level.
As well as the standard desktop version of MT4, this broker also provides clients with a WebTrader version of the platform, which basically means that the platform can be accessed direct from your browser, on almost any device, without the need to install anything. This web-based version includes all the same features and functionality of the desktop platform, and can be a great choice for traders who need the flexibility of trading on the go, from different devices. For mobile traders, there is an excellent mobile app available for both Android and iOS devices. You can download the app for free from the Apple Store or Google Play and access the markets from your smartphone, wherever you are. The mobile app syncs with your online account, and easily facilitates full-service, multi-asset trading, from anywhere in the world.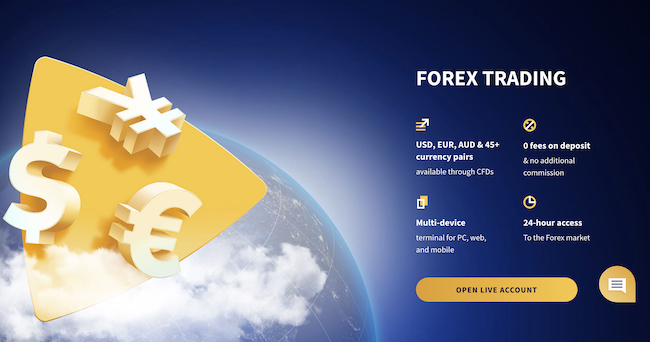 Commissions & Fees
During our in-depth HFTrading forex review, we found that there are many benefits to choosing this broker when it comes to fees and charges. The broker does not charge any commission on trades, and spreads are competitive, across most instruments, compared with other no-commission brokers. Spreads do, of course, vary across different instruments, and you can also expect a fair amount of variation between currency pairs, with major pairs generally having much tighter spreads than minors and exotics. The no-commission model, however, means that the spreads are the only thing you have to worry about in terms of actual trading fees.
HFTrading does have various other fees and charges, however, as you might expect. While the broker may be very attractive to active traders, those who are likely to be inactive for long periods of time need to be aware of the potential fees incurred on inactive accounts. The inactivity fee, which is levied on any account that has been dormant for over 60 days, is $80, charged monthly, and retroactively (which means that if your account has been dormant for 61 days, it will immediately be charged two monthly fees, or a total of $160). This inactivity fee rises to $120 per month after 90 days, $200 per month after 180 days, and $500 per month after 270 days. All of these fees are, of course, in AUD.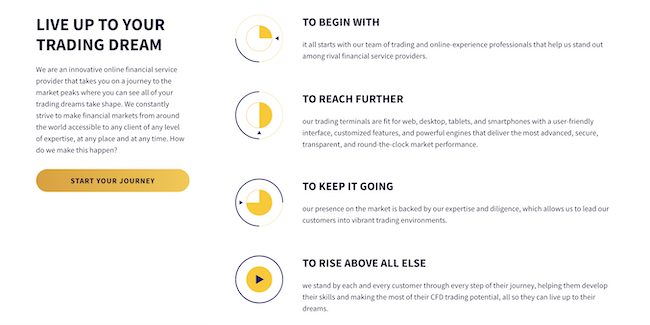 These inactivity fees obviously make this broker a less attractive choice for the less active trader, though active traders will likely find that the fees never impact them. The broker also deducts a rollover fee on positions held open overnight, which is fairly standard. There are no deposit or withdrawal fees levied by the broker, though some banks, credit cards and other payment providers may charge fees on deposits and withdrawals.
Education
HFTrading offers an excellent online education and training portal to support its clients in improving their online trading skills. It houses a range of educational resources, aimed at both new and more experienced traders. There is a video on demand library, split into sections aimed at beginners and advanced traders, covering topics such as Currency Pairs, Distributing Risks, and Trading Is An Art Form. There is also a section of explainer videos covering common trading terms, such as Pips and Short and Long Positions. In the education section, you will also find a series of self-paced online courses digging deeper into specific topics such as Trading Strategies, Social Trading, Trading CFDs and Stocks, and Trading Tools.
There are also short eBooks available to all clients, covering Beginners Strategies, Trading Psychology, Capital Management and Market Analysis, along with a glossary of forex terms. HFTrading has added other useful tools to its educational section, such as an economic calendar, an earnings report calendar and some trading examples. Finally, a couple of short tutorials cover the various tools and features of the MT4 platform, and MT4 Mobile. Overall, we were very happy with the quality and range of educational resources in the HFTrading education section. There seems to be something for everyone, no matter your area of interest or level of experience.
Customer Service
When carrying out a broker comparison, many traders prioritise the level of customer support offered. As you are trading exclusively online, your broker's responsiveness and ease of access to customer support is a factor that will likely have a big impact on your experience as an online trader. At HFTrading, responsive customer support is available via several channels. The website offers a handy live chat option, available from the main contact page, and easily accessible from most pages on the website by simply clicking the chat symbol in the bottom right of the page. There is also an option to email customer support, or phone them, between the hours of 2am and 1pm GMT. Support staff are polite and knowledgeable, and live chat operatives are quick to respond, which is important given that this convenient option will be the preferred channel for many online traders. HFTrading also provides a contact form on the website, which can be used for general enquiries and less urgent questions. Customer support is freely available to both new and existing customers, so it's easy to ask any questions you may have if you are not yet a client but are considering signing up.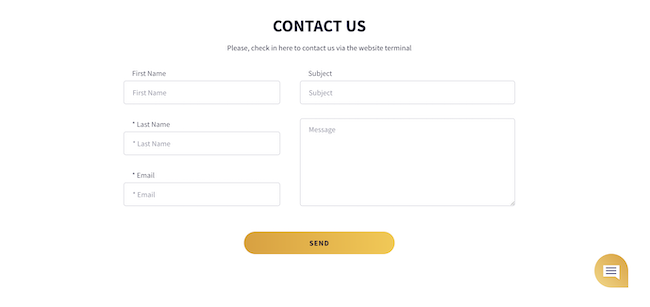 One thing that we discovered during our HFTrading review is that the website does not have a FAQ page or a searchable Help section, which are functions that many online brokers include. However, there is quite a lot of information on the website, which is very clear and easy to navigate, so you will probably find the answers to any questions you might have fairly easily.
Final Thoughts
As we have demonstrated in our extensive HFTrading review, this relatively new online CFD broker is definitely worth considering, if you live in the region it serves. Fully regulated by both ASIC and NZFMA, this multi-asset CFD brokerage offers over 350 assets, with no commissions, reasonable spreads, a broad range of currency pairs, and a nice choice of cryptocurrencies. Online traders have access to forex, stocks, commodities, indices and cryptocurrencies, and all assets are available to trade as CFDs, with generous amounts of leverage. The broker has already won several awards and received great reviews, and also uses the award-winning MT4 trading platform, which is made available for download, web browser and mobile. The choice of retail accounts offers options for novice, advanced and pro-level traders. The website is clean, uncluttered, quick to load, and easy to navigate.
There are always a few drawbacks with any broker. As mentioned, this broker is only operating in Australia and New Zealand at this point, and it only offers its services in English. Another issue that could impact less active traders is the cost of inactivity fees levied on dormant accounts. These fees are fairly steep, and make the platform less desirable for some traders. This broker clearly wants to attract and retain active traders. There are also the risks inherent in CFD trading to consider. As HFTrading clearly states in its own risk policies and other on-site documentation, this type of trading can be risky, and we are always keen to encourage all traders to make sure that they understand how leverage works and practice good risk management strategies. This is, to be fair, made easier by HFTrading, due to the comprehensive education and training section that covers the intricacies of CFD trading and risk management strategies. Overall, if you are an active CFD trader based in the antipodes and want access to a range of assets, then this broker is definitely one to consider.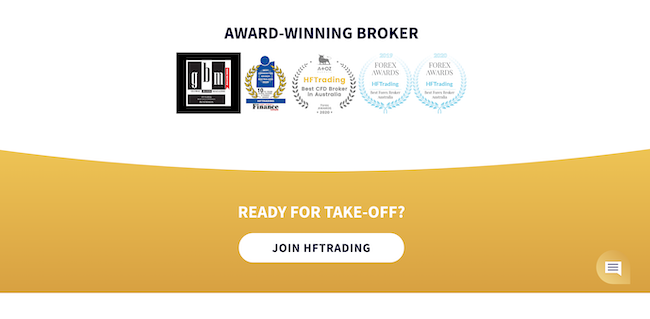 Broker Details
 HFTrading was established by the New Zealand-based CTRL Investments Limited, an investment company that is registered in New Zealand and Australia. The broker is licensed to operate in these countries by the New Zealand Financial Markets Authority (FSPR Number FSP197465) and the Australian Securities and investment Commission (ASFL Number 414198).
Contacts
Phone: +61 391139456
Email: [email protected]
Live Chat Support: https://www.hftrading.com.au/en/contactus

FAQ
Is HFTrading trustworthy?
HFTrading is an award-winning broker and is registered, regulated and licensed by ASIC and NZFMA. ForexFraud.com has conducted a thorough assessment and considers HFTrading to be a safe and trustworthy broker.
What instruments can I trade with HFTrading?
You can trade forex, stocks, indices, commodities and cryptocurrencies with HFTrading. All instruments are available as CFDs.
How do I open an account with HFTrading?
Opening an account is a quick process, carried out entirely online. Be aware that you must reside in Australia or New Zealand to open an account with HFTrading. You should be ready to provide some basic information and upload some identifying documents to verify your account.
How do I deposit funds in my HFTrading account?
You can deposit funds with HFTrading using a wire transfer, credit or debit card, Skrill or Neteller. There are no deposit fees, and most deposits are instant, though wire transfers will take longer.
How do I manage my HFTrading account?
HFTrading accounts can be easily managed from your online dashboard, once you have verified your account. You can use the desktop or web-based version or manage your account via the mobile app.
Is trading with HFTrading risky?
Trading CFDs with any online broker carries risk. Successful traders are those who educate themselves regarding how to manage and minimise risk. HFTrading includes the following risk disclosure:
"CFDs are complex financial products and come with a high risk of losing money. Most retail client accounts lose money trading CFDs. You should consider whether you can afford to take the high risk of losing your money. You do not own or have any interest in the underlying asset."