Is FP Markets "Simply the Best", as claimed on its homepage? When it comes to Forex and CFDs, it certainly is right up there with the best of them. The brokerage has been around since 2005 and is licensed by one of the world's top financial authorities: Australia's ASIC. It also offers some outstanding trading conditions, with spreads starting from 0.0 pips, a minimum deposit of AUD/USD/EUR 100, Direct ECN Pricing, access to the world's top trading platforms, as well as 500:1 leverage.
Over the long years of its existence, the brokerage accrued a number of more or less prestigious awards from various members of the industry, media and financial organizations. These awards have covered most of operational aspects, starting with Client Satisfaction, which is quite probably the most important, through trade execution and customer service, all the way to the educational material offered to traders.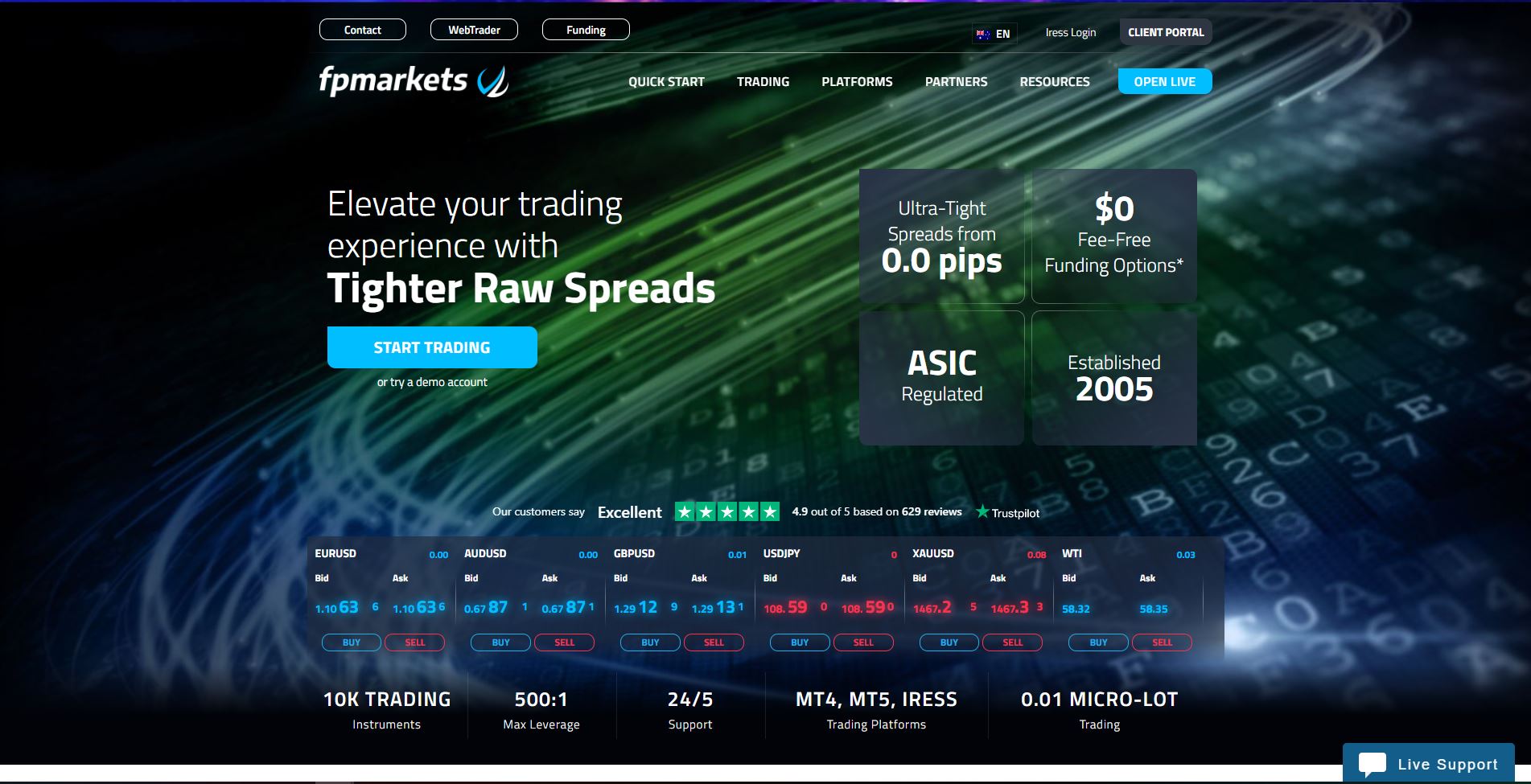 What  Exactly Does FP Markets Offer Trading-wise?
The trading products offered by the brokerage cover two basic categories: CFDs and Forex. The selection of tradable assets over the two categories is simply mind-numbing: there are more than 10,000 products, covering various global markets. The majority of this selection is focused on the equities sub-category within the CFDs, but there are plenty of square Forex assets available as well.
The equity CFDs cover 5 continents and more than 2,000 stocks. There are ETFs and domestic shares available as well. The index-based CFD selection covers 9 indices. There are 9 DMA indices available too.
The asset-selection is the poorest commodity-wise. There are only three commodity-based CFDs available: WTI, Gold and Silver. There are however some 15 DMA commodities too, including exotics such as palladium, soybean and lean hogs, not to mention live cattle.
Forex trading – which happens on an entirely different platform, covers some 45 currency pairs, as well as a number of other assets. The spreads offered in this regard are detailed on a dedicated page at the site. Here, both the minimum and the average spreads are shown on both account types available on the Forex platform. Some of the spreads (Euro vs ZAR – we're looking at you) are absolutely massive, so consulting this page before making any real money trading moves makes perfect sense indeed.
The number of indices tradable through this platform is 9. Only one commodity can be traded (WTI).
FP Markets Trading Platforms
To understand how the above detailed asset-selection is distributed, we need to understand what platforms FP Markets have made available.
First, we have the IRESS Viewpoint platform which is used for the CFD side of the business. IRESS is an HTML5-based web trading platform, which is almost as powerful as the industry-best MT4, when it comes to the charting solutions and analysis tools it offers.
The IRESS package includes some 59 technical indicators, which are augmented by more than 50 drawing tools, making technical analysis a sort of walk in the park on the platform. Obviously, without comprehensive time interval selection, proper technical analysis is not much more than a pipedream, so IRESS delivers on that front as well.
At this level of technical sophistication, it almost goes without saying that the charts are fully customizable and that the chart templates can be saved for later use.
The time frame-wise flexibility of the platform comes in very handy when comparing different instruments over multiple time frames.
Although cut from an entirely different cloth, MT4 delivers features in many ways similar to those of the IRESS platform, and more. MT4, the industry-best trading platform gold standard, is what powers the Forex side of FP Market's product selection.
For seasoned traders, MT4 needs no introduction. Besides the 50+ technical indicators it has pre-installed, it also features powerful and customizable charting and its popular EAs (Expert Advisors). Expert Advisors are essentially programmable and customizable auto-trading solutions, for which traders usually need the support of a proper VPS service. FP Markets has that side of the equation covered too.
One click trading is also supported by MT4, as are the streaming live prices (also available in the demo version of the platform).
The demo account offered by FP Markets is only available on the MT4 platform, which means that traders have to download and install it if they want to take advantage of it.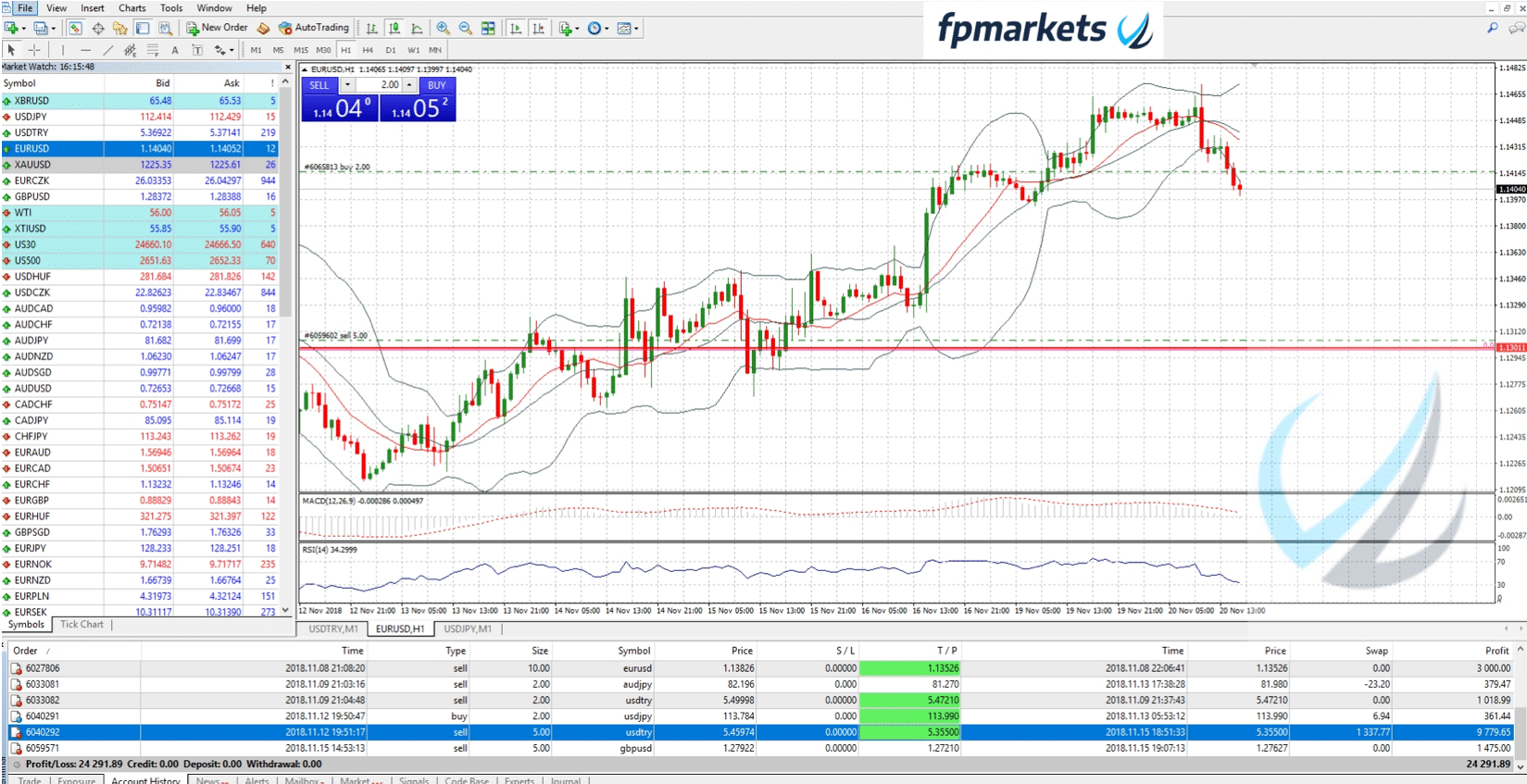 Account Types
There are some 5 different account types available at FP Markets: three of them on the IRESS platform and two on MT4.
The Standard account is the cheapest CFD account available, featuring a minimum deposit of $1,000. Being the cheapest, it is also the least attractive. It carries all sorts of additional fees, which can only be eliminated by generating commission-volume and exceeding certain preset targets in this regard.
The Platinum account is a major step in the right direction. It offers better commission rates, and it cuts back on the multitude of fees featured by the Pro account. The minimum deposit required by this account though is $25,000, which is indeed quite a jump from $1,000.
The Premier account is at the top of the CFD account-ladder. It requires a deposit of $50,000, and it has most fees waived by default. This is the choice of the professional trader, with no minimum brokerage charges and platform fees.
The cheapest account at FP Markets is the Standard account on MT4. Requiring a deposit of only AUD/EUR/USD 100, the Standard account is a bit heavy-handed when it comes to minimum spreads. STP execution and VPS services are available for the account though. The maximum leverage is 500:1.
The ECN Raw account is the equivalent of a Forex premium account. With spreads starting from 0.0 pips, this one is much more generous than the Standard account. The minimum required deposit for it is AUD 100 or equivalent.
FP Markets' Background
In this regard, FP Markets' transparency is truly impressive. Not only do they make the name of the corporate entity pushing the operation public, they list a slew of legal documents which cover every operational aspect.
The company is called First Prudential Markets Pty Ltd, and it is based in Sydney, at Level 5, Exchange House, 10 Bridge St, NSW 2000. Showcasing the global- or rather: Asia-Pacific-focused nature of the operation, an office is maintained in Beijing as well.
First Prudential is a registered Australian company. Its registration number is ACN 112 600 281. It is also the possessor of an Australian Financial Services License (#286 354).
The exact list of financial services which the above said license allows the operator to offer, is also publicly available at the site.
Conclusion
FP Markets is a solid, reliable fx brokerage, which is very transparent in every aspect of its operation. There are no "catches" here, and all the information one could need to make up his/her mind about trading there, is readily available. On some account-types/assets, the fees and commissions may be a little steep.
FP Markets features a White Label Program and MAM/PAMM account options for institutional investors and money managers. The site also offers a full educational package, complete with daily market analysis, webinars and news/commentary.