CAPEX is a Forex/CFD brokerage based in Cyprus and regulated in the EEA, which offers very interesting trading conditions on a massive range of trading instruments. The platforms featured by CAPEX are MT5 and a Web Trader, both of which offer very attractive trading environments for clients of the brokerage. Why should you move your trading to CAPEX though? Let's take a closer look at what these guys have in store.
Regulation is definitely the most important factor when it comes to forming an opinion about a Forex/CFD brokerage like CAPEX. Unregulated operators should not even be considered in any shape or form. Fortunately, CAPEX presents a rather impressive profile in this regard. It is regulated and licensed by CySEC and it is registered with a number of other EEA (European Economic Area)- based regulatory authorities.
The corporate entity behind the brand is Key Way Investments Ltd, which has its main office at 2 Sofouli Street, Chanteclair Building, 6th Floor, Office 602, Nicosia, Cyprus. The CySEC license number of the operator is 292/16 – indeed a rather recently-granted document. The other authorities with which the operation is also registered, are the UK's FCA, Germany's BaFIN and Poland's KNF. It is worth noting though that CAPEX is not licensed with these authorities. The name of the operation might suggest that it is indeed a Global brokerage, but – as said above – it can only legally offer services in the EEA. Furthermore, the official website of the operator makes it clear that potential clients from the US, Canada and Japan are not accepted. There are other countries on this list too, but for some reason, the Terms and Conditions page of the site – where this full list is allegedly hosted – will not load.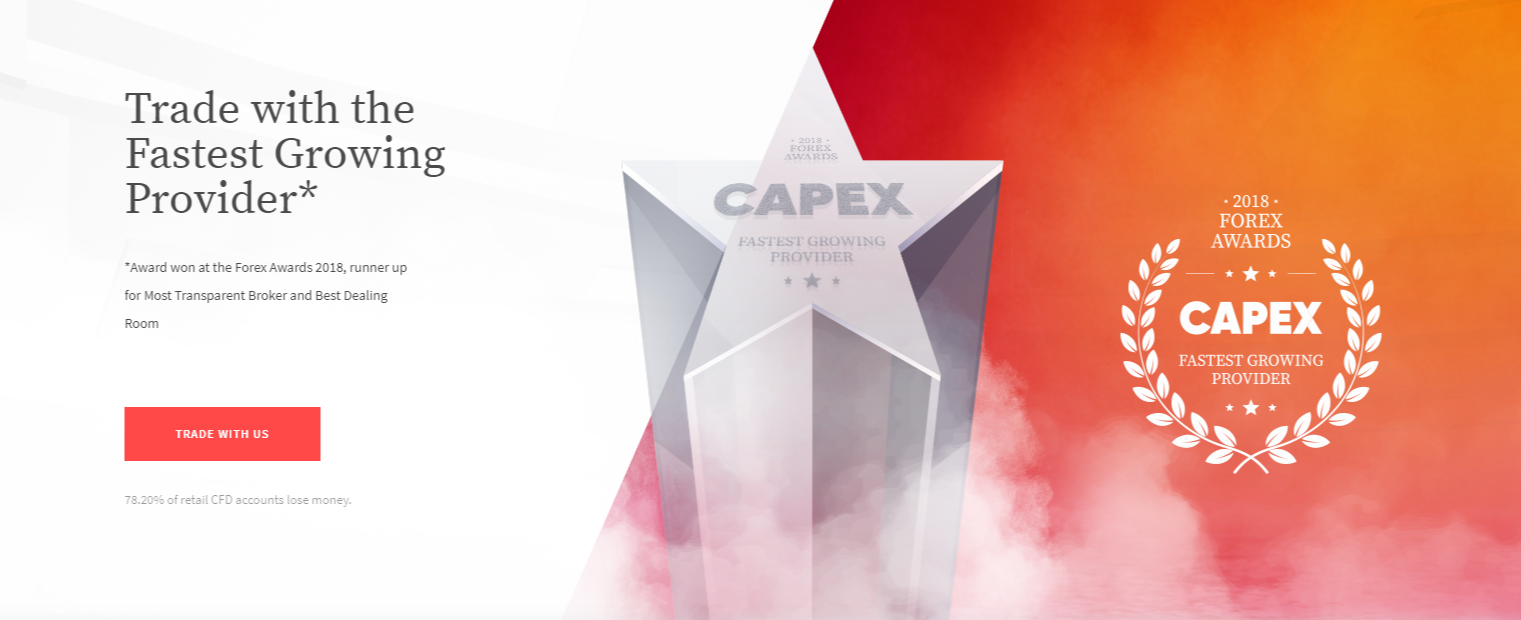 CAPEX Trading Conditions
As said above, the trading conditions offered by the brokerage are among its main selling points. The site is keen on stating that the broker does not charge any commissions on any of its trading instruments. The spreads are said to be tight, and though in some cases they are indeed just that, there are underlying assets on which the spreads are rather massive. What's more, the trading conditions are slightly different on the WebTrader and on MT5.
Let's take a look at the EUR/USD, which is obviously the most popular Forex pair. With the Web Trader, the spread is set to 2 pips and the maximum available leverage to 1:295. The same pair on MT5 comes with a spread of 3 pips and a maximum leverage of 1:200.
On exotic currency pairs like the EUR/CZK for instance, the trading conditions are much more adverse. The spread is 350 on this pair, with the maximum available leverage set to1:100. The EUR/CZK pair is not even available on MT5. There's USD/CZK though, which features a 3-pip spread and a maximum leverage of 1:100.
The shares CFD section is mind-boggling as far as diversity is concerned. More than 2,000 tradable assets are offered, covering every nook and cranny of the global economy. Spreads on shares start from as little as 0.01 EUR, with the maximum leverage set to 1:5.
Those who like to keep their fingers on the pulse of the global economy, will surely appreciate the 26 index-based CFDs offered by CAPEX. These trading instruments cover just about the entire planet and they feature some of the most diverse trading conditions. The maximum available leverage on these instruments ranges from 1:5, all the way to 1:20. Likewise, the spreads vary wildly too, though they're a bit more difficult to make heads and tails of, given how they are displayed in local currency.
The commodities section does not disappoint either. It features an impressive number of tradable assets, among them "mainstream" ones such as Gold and Silver, as well as interesting additions, such as soybean, corn, rice and cotton. The lowest leverage in this section is on Brent oil and it has been set to USD 0.04. The maximum available leverage on these products is 1:20.
Cryptocurrencies are arguably some of the most interesting and innovative underlying assets for CFD trading. CAPEX's selection in this regard covers Bitcoin, Bitcoin Cash, Dash, Ethereum, Ethereum Classic, Litecoin and Ripple. USD as well as EUR pairings are offered. Needless to say, because of the volatility of the underlying assets, the trading conditions in this category are a little different from the above presented ones. The minimum spread can be as high as 165 USD on Bitcoin and as low as 0.01 USD on Ripple. In this regard it is obvious that the actual value of the currency is a factor as well. Costing somewhere around $11k, Bitcoin can easily handle a spread of $165. Ripple on the other hand hovers around the USD 1 mark, so its spreads are naturally much lower. The maximum available leverage on cryptocurrencies is 1:2.
As with all the other above-discussed assets, it has to be put forth that cryptocurrencies cannot actually be owned at CAPEX. Traders don't actually buy cryptos: they only trade the difference between the entry and exit prices of the contracts based on these assets.
CAPEX Account Types
To fulfill the needs of as varied a range of potential clients as possible, CAPEX offer several account types, beginning with their Demo account. The Demo account is the easiest way to put their platforms and trading conditions to the test, and it works on the Web Trader as well as on MT5.
Those serious about trading, but of relatively meager financial means, can opt for the CAPEX Essential account. This one requires a minimum deposit of $1,000 and for that money, it delivers quite a selection of features and perks. In fact, it gives traders access to everything, with the exception of trading alerts and 24/5 support.
The next step up the account ladder is the CAPEX Original account, which calls for a minimum deposit of $5,000. For this sort of money, in addition to everything delivered by the Essential account, event analysis and trading alerts are included in the package too.
CAPEX signature is the top-tier account of the brokerage. Unlike the other two real money accounts – which are indeed relatively accessible – the Signature account takes the game to an entirely different level. Requiring a minimum deposit of $25,000, it is indeed an account aimed at institutional and high-volume traders. It goes without saying that for this kind if money, depositors gain access to all the perks and features supported by the brokerage.
CAPEX Trading Platforms
As already mentioned above, CAPEX support two trading platforms: a Web Trader and MT5. Their Web Trader has more than 90 technical indicators included, and through MT5, traders can choose from more than 2,000 such indicators, for free, in addition to the 30 pre-installed ones.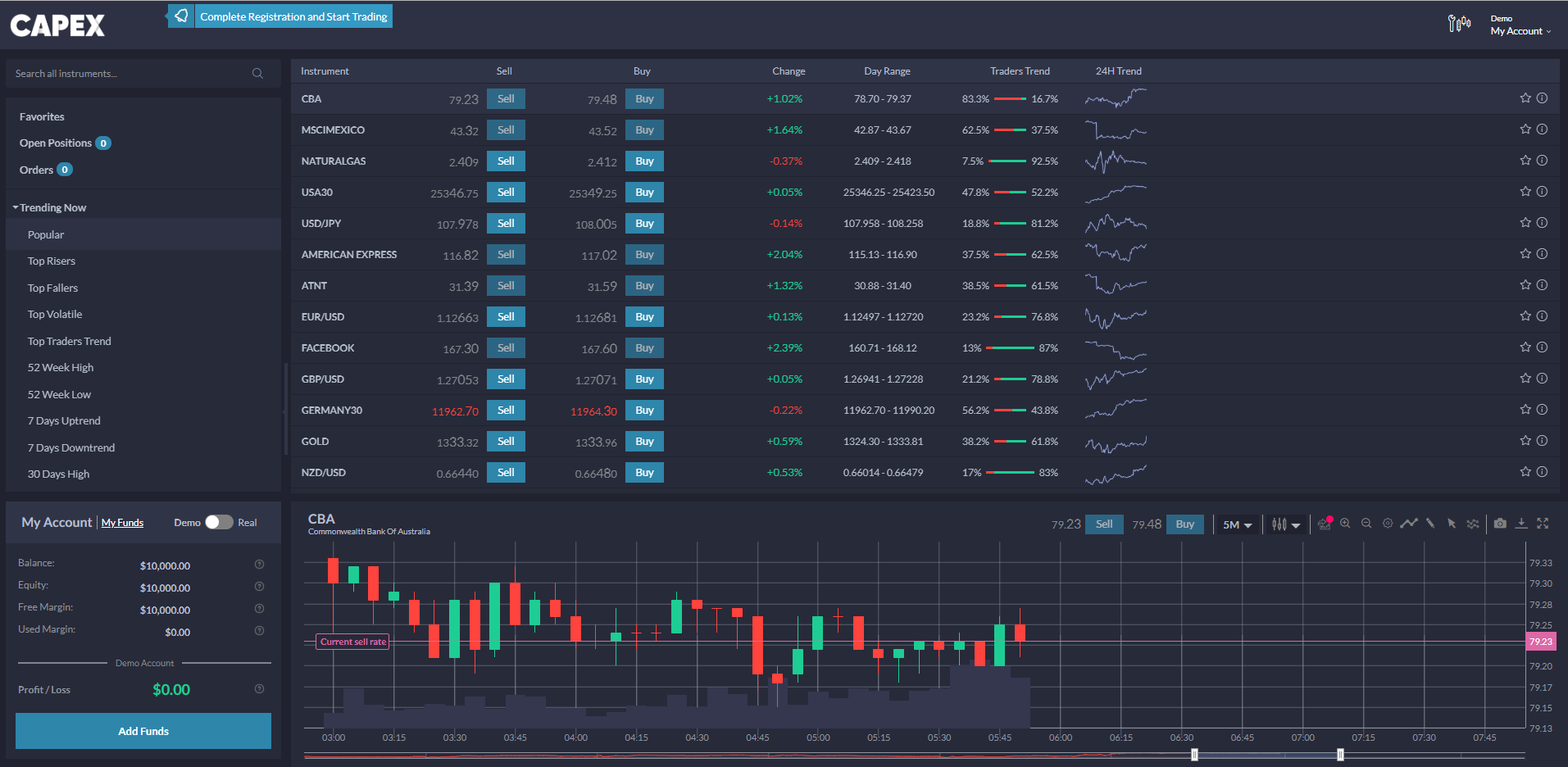 Conclusion
CAPEX looks like a decent Forex/CFD trading destination. In addition to the features detailed above, the brokerage seems to enjoy a healthy reputation among traders too. Its great trading platforms and trading conditions make it a very interesting choice indeed.