AssetShot is a relatively new online CFD broker, which is owned and operated by the Jess Group LLC — a CFD broker and financial services firm that is set up in St. Vincent and the Grenadines.
Although it is hard to get a sense of what makes AssetShot distinct from other similarly sized brokers, in one way, this is part of its charm. AssetShot offers a well-balanced trading experience that focuses on the basics rather than getting distracted by trying to pack in too many extra features.
With that said, AssetShot provides access to a nice selection of CFDs, which are spread out across currencies, commodities, shares and various other markets.
Generally speaking, the focus seems to be on offering excellent trading conditions in a well put together package, which is supported by an excellent customer support team. This is something AssetShot certainly delivers on.
The trading experience is certainly 'no-frills', but if you are a trader who prioritises excellent trading conditions over access to other resources, AssetShot could be the perfect platform for you.
But how does AssetShot actually stack up in practice? Keep reading this AssetShot broker review for the full rundown.
Features
In terms of what features AssetShot has available for users of the platform, there is certainly plenty here for both new and more experienced traders alike.
Perhaps the most immediately obvious of these is the general trading conditions on offer.
AssetShot provides commission-free trading with STP order processing. This means that not only will your trade orders get processed and executed very efficiently, but you will also benefit from market-leading rates. Additionally, the lack of commissions and fees means that you always know exactly how much a given trade will cost you. We really appreciated this open and transparent pricing structure, which is a breath of fresh air compared to some of the other brokers out there.
We were also big fans of the amount of leverage offered. Although leverage trading certainly has its risks, it is a great tool when used by experienced traders. The level amount of leverage you can benefit from will vary between account types. This starts from 1:100 on the Bronze account and goes all the way up to 1:400 on the Platinum account.
Beyond some of these key features, however, AssetShot does not have a lot of other advanced features on offer. The broker offers what is very much a stripped-down, back to basics trading platform. Whilst this certainly has its benefits, it might not be desirable for all traders out there. Many of the features are already offered as standard through the MetaTrader 4 platform, so these might already be familiar to you.
Account Types
When we are reviewing online brokerages, one of the features we always keep an eye out for is whether or not they have multiple account types on offer. This is something we look for because having different account options on offer usually means that a variety of traders are being catered for.
It is quite rare that a novice trader just getting started will have the same needs as a professional day trader who has years of experience under their belt. For this reason, we love to see online forex brokers provide different account types to suit traders of all skill and experience levels.
Thankfully, this is a consideration that AssetShot has clearly kept in mind when designing this platform.
In total, AssetShot has four different account types on offer: Bronze, Silver, Gold, and Platinum.
For most beginner traders, the Bronze type is probably the best option. It has a low account deposit minimum at $250, although the spreads offered are not the most competitive. If you have slightly more experience under your belt, the Silver account is a really good option. The account deposit minimum of $2,000 requires slightly more of a commitment, although the reduction in spreads make it an attractive option.
The Gold and Platinum account types are definitely aimed at someone with more experience, possibly a professional day trader, and have account deposit minimums of $10,000 and $50,000, respectively. The Platinum account offers by far the most competitive spreads and also comes with higher leverage.
With that said, you really get a sense that AssetShot is trying to provide a trading platform that caters to all experience levels, and this is something it really delivers on.
One thing we really appreciated about how AssetShot has set up its different account types is that there are few differences between them beyond the spreads, leverage, and deposit minimums. All other aspects of the trading accounts were pretty much the same between them. We also really appreciated that this information was well-laid out and easy to find. Quite often, you really have to go digging to find this information, but AssetShot made it easy to access.

Platforms
As you might have expected, AssetShot currently provides support for and access to the MT4, or MetaTrader 4, trading platform.
While this might seem like an obvious choice, there is good reason for it. The MT4 platform has essentially become the industry standard trading platform amongst online forex brokers.
Much of this is to do with how approachable it is, with the MT4 platform striking that perfect balance between usability and adaptability. Beginners and professional traders alike have relied on the MT4 platform for years and it is by far the most popular platform in the industry.
In addition to being completely customisable to your daily trading needs, MT4 is packed full of research tools that can be used to help you develop and deploy a trading strategy. This includes complex charting and analysis tools, as well as news feeds and other live data sources.
With a slew of industry awards behind it, it is easy to see why AssetShot opted to make MT4 its platform of choice.
Additionally, the MT4 platform comes in a number of different variations, including a desktop terminal, a web-based trader, and a fully adapted mobile version. The mobile version is particularly useful and comes in Android and iOS variations. Although the mobile MT4 app does not offer the full functionality of the desktop version, it does provide a perfectly scaled-down version that doesn't sacrifice too many features.
It should also be noted that while some other online CFD brokers have started to add support for MetaTrader 5, this is not something that AssetShot currently supports. Although support for MT5 is not that widespread in the industry just yet, this is something we would like to see in the near future.
Support
One of the most important things we look at when we are doing the research for forex broker reviews, is the level of customer support on offer.
Running into a problem with your trading account can be a very stressful experience. When something goes wrong, you want to know that you have a reliable, responsive, and knowledgeable customer support team to fall back on.
Thankfully, AssetShot more than meets this criteria.
If you are unfortunate enough to run into an issue with your account, you can get in contact with the customer support team via e-mail, phone, or by postal address. Of these, e-mail is going to be the quickest, with the response times to any e-mail queries we sent off being generally pretty swift.
You can submit these queries directly to the e-mail address provided on the AssetShot website or you can use the question submission box embedded in the 'Contact Info' section.
The customer support team is available on a 24/5 basis, which means they are available 24 hours a day during the working week. While it would be good to see 24/7 coverage provided, being open 24 hours during the working week means this broker is available whenever the markets are open and trading.
One element we would like to see added in the future is an FAQ section. Many online brokers include an FAQ section, in addition to the customer support service, which contains answers to many of the common issues you might run into. These can be very useful and can save you the hassle of having to reach out to the customer support team and wait for a response. Although not having one is not a major issue, it is still something that could be added easily in the future.
Trading Instruments
Although AssetShot does not advertise itself as having a speciality in any one financial market, it is a fairly solid CFD broker with a decent selection across various financial markets.
With that said, AssetShot provides users of the platform with access to a range of financial instruments including forex, commodities, indices, futures, and many more.
In terms of what you can actually trade at AssetShot, we should first note that the instruments available to you will not depend on what level of account you have open with them. This is really great to see and is a definite plus in AssetShot's favour.
In total, this includes over 50 currency pairs and a wide smattering of CFDs. The indices CFDs on offer covers 16 different assets, with the likes of S&P, Germany 30, and the Nasdaq 100 ready to trade. Commodities include metals like gold and silver, energies, and a range of different futures.
AssetShot also has a very respectable selection of equities on offer, with CFDs on all the major stock exchanges. This covers a wide array of common stocks across the US, European, and Asian stock markets.
Overall, we were decently impressed with the selection of CFDs offered by AssetShot. Despite not specialising in any single asset class, AssetShot has nevertheless managed to provide decent coverage across a nice range of markets and asset classes. Although it doesn't have the same level of selection as some of the biggest brokers out there, the selection provided should suit the needs of most intermediate traders.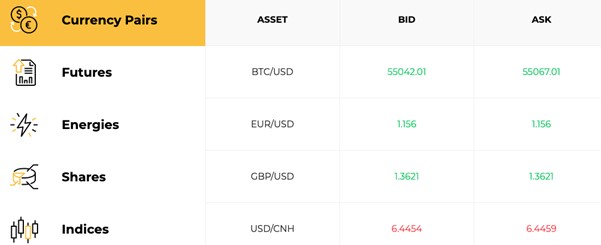 Deposits/Withdrawals
When it comes time to finally make that first deposit to your AssetShot account, you will be pleased to know that the process at AssetShot is relatively streamlined.
The first thing you should note is that the minimum deposit required from you will depend on what level of account you have open with them.
The Bronze account has a minimum deposit of $250, while Silver, Gold, and Platinum have minimum deposit thresholds of $2,000, $10,000, and $50,000 respectively. While these are all pretty much standard for the industry, the minimum deposit requirements on the Gold and Platinum accounts do seem quite high. On the other hand, the low threshold on the Bronze account makes this platform accessible for novice traders.
In terms of the deposit and withdrawal methods available, you can top up your account via traditional bank and wire transfers, or by using a credit/debit card.
Generally speaking, the process for setting up deposits and withdrawals is very straightforward, and payments are usually processed quite quickly. Credit/Debit card withdrawal requests usually take 24-48 hours to hit your account, while transfers to bank accounts could take up to between 2-5 business days. It is important to make sure your account is fully verified before attempting to make any payments.
Perhaps most importantly, AssetShot does not charge any additional fees for deposits or withdrawals to the platform, which is really great to see. However, you should note that credit card payments may be subject to external charges by your credit card provider, so please bear this in mind before making any transactions.
Conclusion
Overall, we were generally pretty pleased with the trading experience offered by AssetShot and there is definitely a lot to like about this platform regardless of whether you are a novice or a more experienced trader.
In terms of the benefits, we really like the focus on providing a stripped-down trading experience that prioritises the trading conditions over packing in a bunch of unnecessary features.
The execution speeds and pricing are always quick and accurate thanks to the STP model, and the pricing structure is incredibly transparent. This takes some of the stress out of executing your trades, as you will always have a clear idea of what you are due to get charged.
While the precise spreads you get offered will depend on what level of account you have open with AssetShot, we really appreciated that there was an account type to cater for all skill and experience levels. The beginner account offers pretty decent spreads, considering the low deposit minimum. If you are an experienced or professional trader, the Platinum account — which offers spreads from as low as 0.1 pips — will certainly catch your interest.
On the more negative side, if you are looking for a platform with slightly more to offer in terms of added features, you might feel yourself wanting a little bit more from AssetShot. In particular, it would be good to see some extra learning and educational resources included in the future. Some added trading tools also wouldn't go amiss either.
However, if you are a beginner or an intermediate trader looking for a stripped-down trading experience that prioritises providing the best trading conditions over packing in extra features, AssetShot could be just the platform you are looking for.
With that said, if you do wish to give this broker a try, open a free account today and get started trading.