Apollo Finances is a relatively new broker on the market, having been formed in 2020. Therefore, it hasn't yet built up the excellent reputation of some other brokers on the market. Despite it being relatively new it still has quite a lot to recommend its services. With many different trading options in place, the broker ensures that traders of any type can gain access to what they need.
The top trading platform, MetaTrader 4, is in place, so it's quick and easy to make trades. Apollo Finances ensures that all trader, from beginners to professionals, can get what they need from the broker.
Features
Apollo Finances has many features in place that help it to stand out from competitors. One of the most important is that there are more than 100 different trading assets on offer to traders. With such an extensive range of investments available, traders have a great deal of choice when deciding what to trade. That is, of course, vital for traders who want to create a diverse portfolio.
There's also the best trading platform available to use. MetaTrader 4 is the market leader, and it offers access to some of the best analytical tools around.
The leverages that are in place allow traders a lot of breathing room for trades. It's good to see this, as not all sites offer traders good degrees of leverage. So, if you like to make leveraged trades, Apollo Finances provides you with the opportunity.
One area that could do with some improvement is the education section. There are very few options available to traders at Apollo Finances for education, so beginners have to find other ways to increase their trading knowledge.
Account Types
There are four account types available to traders at Apollo Finances. They allow traders of all different types to open a suitable account. It is a useful range of account types as not all brokers have such a choice available.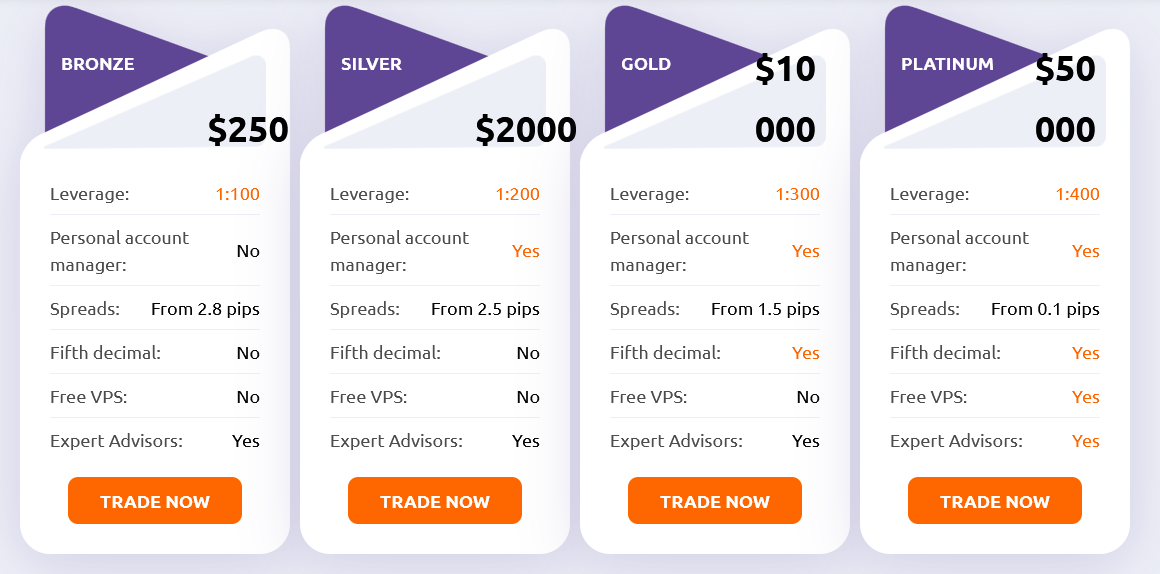 The first account offered is the Bronze account. It is a beginner account and requires a minimum deposit of $250. There is leverage in place for this account at a rate of 1:100. While traders don't have access to a personal account manager, the expert advisors are still in place. Spreads are the most expensive with this account starting at 2.8 pips.
The second account is the Silver account. The account is for more advanced traders and has a minimum deposit amount of $2,000. The leverage is increased to 1:200, which allows more flexibility for traders. A personal account manager is added to the support in addition to the expert advisors. Traders have access to cheaper spreads with this account as they are decreased to 2.5 pips.
The Gold account is for traders who are experienced but aren't quite professionals. The minimum deposit for this account is set at $10,000, which will be outside the reach of beginner traders. The personal account manager and expert advisors are both still available with this account. The leverage is also increased to 1:300. The spreads are also dropped down quite significantly to 1.5 pips.
The final account offered is the Platinum account. It is for expert and professional traders. It's evident that this is the case with the minimum deposit amount being $50,000, which is certainly more than most beginner and intermediate traders have available. The support offered is still the same, but the amount of leverage provided is increased to 1:400. The best aspect of this account is that traders have access to spreads that start at 0.1 pips.
Overall, the accounts offered to traders are excellent. There's a lot of variation on offer, and it is easy to select the most suitable version for your needs. It also means that everyone from beginner traders to professionals can trade by using Apollo Finances.
Platforms
The trading platform at Apollo Finances is the popular MetaTrader 4. It is the market leader of such platforms, so traders at this broker can use the best on the market. It is easy to get started with trading as a lot of customisation is possible with MT4.
Traders can check the finest analytical tools around when using MT4. You can easily find the information needed to make the right trades. Several charts are offered in MT4, and traders can add the ones they use the most to their layout. From there, they can keep an eye on how the markets are working at all times.
A significant positive with the MetaTrader 4 platform is that many different automated controls can be configured. They include the ability to carry out social trading. That isn't something offered by default by Apollo Finances, but the platform itself allows traders to set up their own automatic trading facility. Alarms are another big plus with the platform. Traders can set different assets and instruments to send a notification when prices hit a certain point, so traders can carry out order instructions as soon as the prices are at the optimum levels.
MetaTrader 4 can also be used on several different devices. The terminal is the standard platform that can be used on desktop computers. It offers the ability to customise the layout of the platform to whatever the trader desires. It's the most common method when using the platform and is generally the usual way to trade on the market.
Traders who can't download the platform onto their desktop computer can also use the platform through their browser. It means that if your PC isn't powerful enough to run the platform, then access is still available through whatever browser is preferred. While it's slightly slower than using the terminal platform, it still offers access to traders who can't use the platform on their desktop. For traders who have a Mac rather than a PC, there is a Mac version of the platform available. It is straightforward to use the platform no matter what device is being used.
Mobile access is also available through a mobile app. It is slightly scaled down from the platform's desktop version, but it is well designed. It can be used on laptops, mobile phones and tablets. The larger size of the screen on a tablet does mean that it's easier to use on a tablet than on a smartphone. That doesn't mean the mobile version is of poor quality; it has been designed to a very high level. In terms of controls, the touchscreen makes it very easy to navigate the platform. If you like to have access to your trading platform no matter where you are, then the MT4 mobile platform is the best way to do this.
Support
The support at Apollo Finances is in line with what most of the industry offers. The first aspect that's worth mentioning is the available legal documents. These can all be found as links at the bottom of the page. It makes it very easy to find out the terms and conditions when signing up for an account with Apollo Finances. The legal documents include risk warnings and anti-money laundering information. The privacy policy and general terms and conditions are also available from here. These can be found through individual links at the bottom of the page or via the documents link from the company heading.
For traders who need specific help, there are two other support options. The first is a support email address. There isn't an integrated support page available on the Apollo Finances website, so anyone who requires help will have to contact [email protected]. If using email isn't your style, traders can also get in touch via phone. Both of these are available only during business hours which is a little bit of a downside. However, on the whole, the support is generally favourable.
Trading Instruments
The trading instruments offered by Apollo Finances is one of the best aspects of the service. Traders have access to over 100 different assets and instruments when using this site. The first offered is currency pairs. The Forex choices are excellent when trading with Apollo Finances, ensuring that Forex traders can access the pairs they want when dealing in this market.
Apollo Finances also has an excellent indices selection available. It covers some of the main choices on the market at the moment, so traders have access to more investment opportunities than are available with other brokers. Some of the indices available include:
S&P 500
Dow Jones
NASDAQ
DAX
CAC
MIB
FTSE 100
Nikkei 225
Hang Seng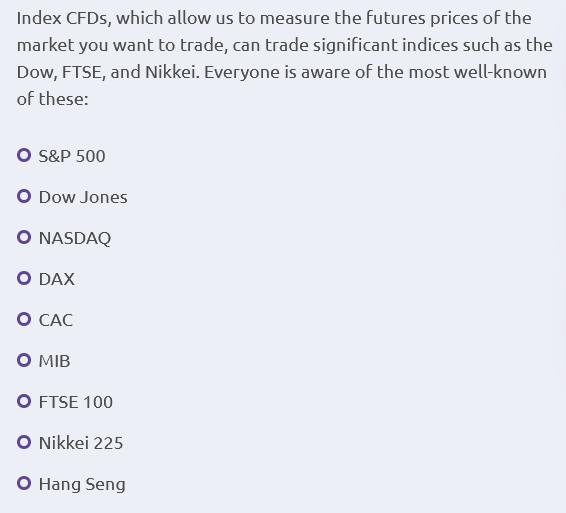 Metals is another option that's available to trade with Apollo Finances. It doesn't mean traders own the metal itself; a metal CFD is essentially a theoretical buy or sell order. The choices available at Apollo Finances are exceptionally well put together. Traders can trade in more than just gold and silver. The overall metal options are excellent.
Apollo Finances also covers the energy markets. The most common option that's available here is oil. It's one of the more volatile markets offered, but the overall choices are some of the best around.
Futures trading is also possible when trading with Apollo Finances. This has fewer options than some other forms of investment, but the available instruments still manage to compare favourably with other brokers.
CFDs in shares can also be traded. The choices offered are generally excellent, with a range of options available.
On the whole, the instruments that Apollo Finances allows traders to use covers more than 100 different choices. It's one of the more extensive selections on the market, and it helps traders quickly gain access to the assets and instruments in which they are interested.
Deposits/Withdrawals
When it comes to deposits and withdrawals, there are a lot of different options available to traders. The first available deposit option is via debit and credit cards. Visa is the most common option, but the majority of top credit card providers can be used.
Traders can also use bank transfers to make a deposit. This usually allows for a larger deposit to be made to the trader account, although it often takes longer than a debit card. Third-party payment providers can also be used, which offers much more flexibility when making a deposit. In terms of which third party providers are available, it all depends on the country where the trader is based.
Withdrawals are a slightly different matter. Traders aren't able to make a withdrawal to anywhere other than their personal account. While the initial deposit amount can be refunded to the payment method used to make the deposit, any profit has to be paid via bank transfer. All withdrawals have a fee of $20 attached, although withdrawals of less than $500 have an additional fee of $25 applied. Withdrawals are processed within 72 hours, and they take up to seven days to be paid into the trader's bank account.
On the whole, the payment options that are offered by Apollo Finances are adequate. Traders can fund their accounts easily enough, and withdrawals are also quite simple. It would be nice to have the option of making a complete withdrawal to the method that is used for the initial deposit. However, the KYC protocols that are in place ensure that this isn't always the case.
Conclusion
On the whole, Apollo Finances has a lot to offer. The different account types ensure that there is one suitable for you, whether you're a beginner or an expert trader. With minimum deposits starting at $250 and going all the way up to $50,000, it shows the levels that are at play here. While the beginner account has a lower entry point than the expert account, the spreads are a lot higher with the bronze account. So, if you intend to trade regularly, it makes sense to move up to a higher account as soon as you are able.
The education that Apollo Finances offer is the only real downside of the site. Traders have access to almost no educational material when using this broker. In fact, the only area that offers any education is the guide to MetaTrader 4, which is adequate. Therefore, beginners to trading have helpful information about using the platform, but there's nothing else available when it comes to other aspects of trading. This is an area that needs improvement, especially if Apollo Finances wants to attract beginner traders.
The support and payment methods are both adequate. However, it would be better if the support was available outside business hours, but the available options are generally what's expected of the market. Payment methods are also acceptable. The only slight issue here is that traders can't always make withdrawals to the same source used for the deposit. That is due to KYC protocols, though, so it's not an issue from the Apollo Finances end.
The instruments are where Apollo Finances really shines. There are over 100 different assets and instruments for traders to add to their portfolio. If you're looking for plenty of choices, then Apollo Finances will be ideal for you.
Apollo Finances is an efficient option for anyone that wants to begin trading. Although it's a new broker, it has still managed to build up a quality site in a short space of time. On the whole, Apollo Finances is a good broker and offers a lot to traders of all levels.