Introduction/Overview
1Market makes trading easy and accessible and can be trusted by traders in a strongly regulated framework.
1Market is an online broker and regulated provider of CFDs, offering trading and investing services in shares, forex, crypto, commodities and indices, under CySEC licence no. 366/18. As such, 1Market adheres to MiFID, a European law that oversees safe-practice regulations and standards for financial and investment firms within the European Economic Area and is widely accepted globally.
Having started operating in 2021, 1Market is a brand owned and operated globally by Podora Ltd, a Marshall Islands company with registration number 107838. 1Market offers a comprehensive and secure trading environment where traders can explore new ways to trade and learn from each other. 1Market offers investors over 600 trading assets to invest in on its platform, which is competitive within the online broker community.
Features
1Market has a good array of accounts to choose from for all types of investors. These are highlighted in detail below.
1Market has an industry-approved and popular trading platform in MetaTrader 5 (MT5), a WebTrader, and in-house trading functions that are both user-friendly and easy to navigate.
1Market has some unique and attractive features to support the trading activity of its clients.
1nsight Trading is in-house and powered by a set of intelligent algorithms that scan the trading activity of thousands of traders and assets available on 1Market's platform to provide real-time, data-driven insights for its trading community.
Trading Central is another integrated investment decision support infrastructure that can provide real-time trading signals up to three times a day at no cost to the trader.
A user-friendly leverage sector is offered to determine your risk appetite, though it is not available for all asset classes and not all account types.
1Market offers daily market updates live onto an investor's mobile or desktop, five days a week.
1Market offers seamless access to its trading platforms on both mobile – Android and iOS – and desktop.
Account Types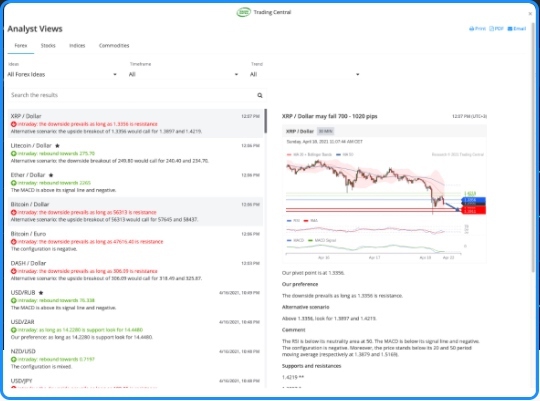 Helpfully and clearly explained at 1Market, there are several types of accounts to choose from, starting with a Mini account and going up to a VIP Account. The Mini account is ideal for beginner traders and requires a minimum deposit of $250. Account holders can trade through the WebTrader platform, which is accessible on desktop and mobile devices. No download is required, and traders get access to Trading Central's premium-graded signals, and over 120 technical indicators and charting options.
By enrolling with the Standard account, the starter pack offers the investor access to the 1nsight live feed, trading signals, the MT5 platform and a 24/5 customer support function. A minimum deposit of $1,000 is required to open this account.
For more advanced traders, the Gold or Platinum accounts are recommended. However, the minimum deposit for a Gold account is $5,000, and for a Platinum account, it is $10,000. Both accounts get access to personal push and SMS notifications, and regular informative market updates.
Diamond and VIP are the exclusive accounts that are aimed at very experienced traders. A personal account service and daily trading advice are offered with these accounts. The Diamond account requires traders to make a minimum deposit of $50,000, while the VIP account requires a minimum deposit of $100,000.
For the really top-end traders, there is also a Professional account. This is aimed at those who are forex trading on a full-time basis. The offer on this account includes low to zero commission, super-fast execution, and the ability to leverage to 1:400. This is one of the highest levels of leverage available in the finance industry.
Platforms
1Market offers several types of platforms that will be both familiar and attractive to many traders. When opening a Mini account, 1Market allows an investor to create a WebTrader, which incidentally does not require a download. It can be used directly through a browser.
Certain accounts will also get access to MT5, which is a well-known, very well-respected and user-friendly trading platform. It is worth highlighting that MT5 is an upgraded version of MT4, which itself was originally introduced to the financial trading markets over 15 years ago.
MT5 is considered a platform of choice in the industry, and is used by a number of competing forex brokers. Developed by MetaQuotes Software, MT5 is not only a powerful platform, but is also fast and efficient, allowing the execution of orders in a number of financial markets and stock exchanges through a single trading account.
The platform also has some other useful features. There is a partial order filling option as well as a number of pending order types. It has a market depth option that features the volume of bids and offers for a specific liquid asset at different prices. There are also 38 different built-in technical indicators and 44 graphic objects (these help to identify cycles and support or resistance levels). In addition, there is a helpful economic calendar and messaging service within the MT5 platform.
1Market offers a user-friendly mobile application that operates for Android and iOS software. The live feed is easy to navigate and the Trading Central link is helpful, as discussed below, in keeping with the desktop version. MT5 is available on the mobile application, as well as technical indicators and supporting data. The move from desktop to mobile is seamless.
There is also a Demo account. This is targeted to support beginner traders but is available to all clients of 1Market, and it is strongly recommended as an introduction to what the broker can offer.

Support
1Market offers a helpful customer support service that is multilingual, with 11 languages, and available 24/5. It is available as an online function for both mobile and desktop versions. This is an area that 1Market is continuing to improve and it is organised in a way that offers advice to traders of different backgrounds, giving equal opportunities to beginner and experienced traders alike.
Remote access support is also available via TeamViewer QuickSupport if traders are experiencing technical difficulties with the broker's site.
Elsewhere, within Trading Central, an investor can choose from a range of trend confirmation and technical indicators, and assess a specific trading opportunity with some confidence. RSI, MACD, Fibonacci Retracement, and others are offered under one banner. These types of technical indicators are key to giving more framework to executing a trading position and are useful for all types of traders. These signals are available across a number of asset classes that are available on the trading platform.
It is worth spending a little more time on 1nsight Trading, which is a proprietary platform on 1Market. 1nsight is powered by a set of intelligent algorithms, and scans the trading activity of thousands of traders and those assets available on 1Market's platform. It is, in effect, a unique sentiment analysis technology platform. 1Market states on its website that 1nsight has "the power to disrupt the world of trading by bringing a unified approach to investing and creating a dynamic ecosystem where the wisdom of one becomes the wisdom of the community, feeling every trader's actions".
It is helpful that 1nsight has the capacity, before and after big economic events, to detect potential trends. 1nsight is also able to analyse volume trends, which can be a very useful trading signal.
Trading Instruments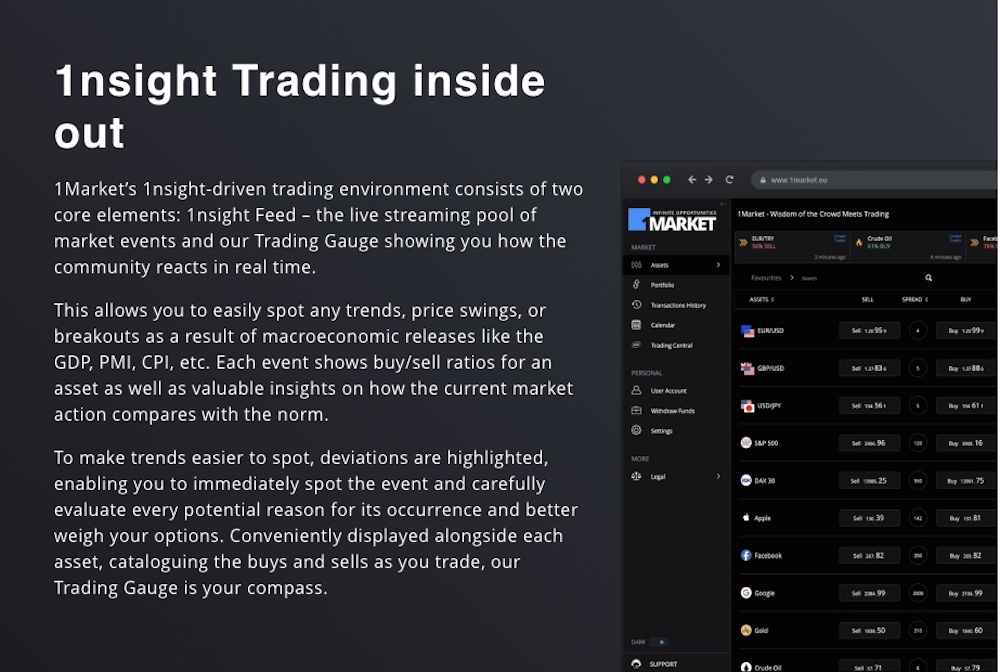 1Market offers investors over 600 trading assets to invest in on its platform, as highlighted below:
Currencies: While every broker offers a different range of currency pairs, most of them – including 1Market – provide a choice of major pairs (EURUSD, GBPUSD, USDCHF, AUDUSD, USDCAD, USDJPY, NZDUSD), minor pairs (EURUSD, EURAUD, GBPJPY, CHFJPY, NZDJPY, GBPCAD) and exotic pairs (EURTRY, USDHKD, JPYNOK, NZDSGD, GBPZAR, AUDMXN, USDTRY, USDMXN).
Commodities: 1Market offers a good range of commodity CFDs, including US oil, gold, natural gas and silver, as well as soft commodities.
ETFs: 1Market offers many ETF CFDs across a wide range of asset classes. Click here to view the complete list.
Indices: 1Market offers a good range of index CFDs on both the proprietary and MT5 platforms. This is being expanded on demand.
Stock CFDs and Zero-Commission Stocks: Large and small-capitalised companies are offered on 1Market's MT5 platform. An investor can register in these and choose the stocks that they would like to follow. News flow and earnings updates are available. CFDs are available.
Deposits/Withdrawals
When depositing funds at 1Market, there are no additional fees during the transaction. Deposits can be funded by debit, credit or prepaid card; electronic wallet options (Neteller and Skrill); or an online or local bank transfer.
1Market does not charge for making a withdrawal either. The same method used to make the deposit will be applied for the withdrawal. It can take three to 14 business days to complete a withdrawal, but it will depend upon the payment processor as the intermediary and whether you have the correct Know Your Customer (KYC) documentation in place. Most withdrawals, however, take a maximum of three business days to transact in keeping with industry standards.
Conclusion
1Market has in short order set up a very reliable and unique trading platform to allow traders of all types to execute seamlessly in over 650 assets.
Having been founded in 2021, the company provides a secure environment for retail and professional traders. It aims, and broadly succeeds, in democratising financial services through technological enhancement. This allows 1Market to offer a unique array of proprietary and industry-recognised trading solutions that creates a comprehensive trading package, allowing its community to assess other traders' activity and spot emerging trends in a real-time framework.
It is worth noting that 1Market has already won two Top Forex Awards in 'Best CFD Broker' and 'Best Introducing Broker Program' in 2021.
Importantly, 1Market is regulated to a very high level under MiFID. This means that client accounts must be segregated and therefore protected. 1Market has a 1Shield brand that covers these important issues. The website states: "At 1Market, we take this responsibility seriously, as is evident through our spreading network of regulatory activities. That's why we strongly abide by our regulatory framework, maintaining segregated accounts and being a member in the Investor Compensation Fund."
The 1Market motto is "Trading for all". The broker attempts to bring a fresh approach to trading by empowering traders of all levels of experience and ability to explore new ways to trade with a technological edge, and it has been developed by traders for traders.
The broker's 1nsight is an impressive feature that can help traders to understand more about sentiment and technicals around a specific trading opportunity, and there is also 1Market Social, which is a mobile copy trading application. This is backed by the popular and well-respected MT5 platform and a robust web trading platform.
The copy trading option could be expanded further, but Trading Central provides automated insights and investment decision support, which is particularly helpful for beginner traders.
The minimum deposit requirement and account set-up requirement are of an industry standard that should be expected. Fees are not excessive, and free deposit and withdrawal costs are very important to many traders.
Clients of 1Market are not short of opportunities and supportive data in order to execute a trade, with a lucrative choice of assets and products available on this platform.
1Market contact information:
Phone contact: +447723861200
Email: [email protected]
Website: www.1market.com